This must be one of the most successful tours so far this year and the audience loved every minute of it. The opening band
 

Atreyu

 

is fantastic. I've always liked their music, it's straightforward rock but with a heavier edge. All three of these bands if you think about it are completely different. Yet close enough that this tour works well. This show was part of the third leg of the tour my suspicion is that they will be adding a fourth if not a fifth. it was great to walk into the Armory and see it with so many people before

 

Atreyu

 

even started.

Ice Nine Kills Is a band I always look forward to photographing because they are so incredibly visual. They have the whole horror theme going with A twist. On this tour all the members are wearing suits which works extremely well into their visual presentation. Part of the way through the show they played one of their biggest hits "American Psycho". Spencer Charnas, the lead singer put on a raincoat and grabbed his axe for the song to drive home the film element from the movie of the same name.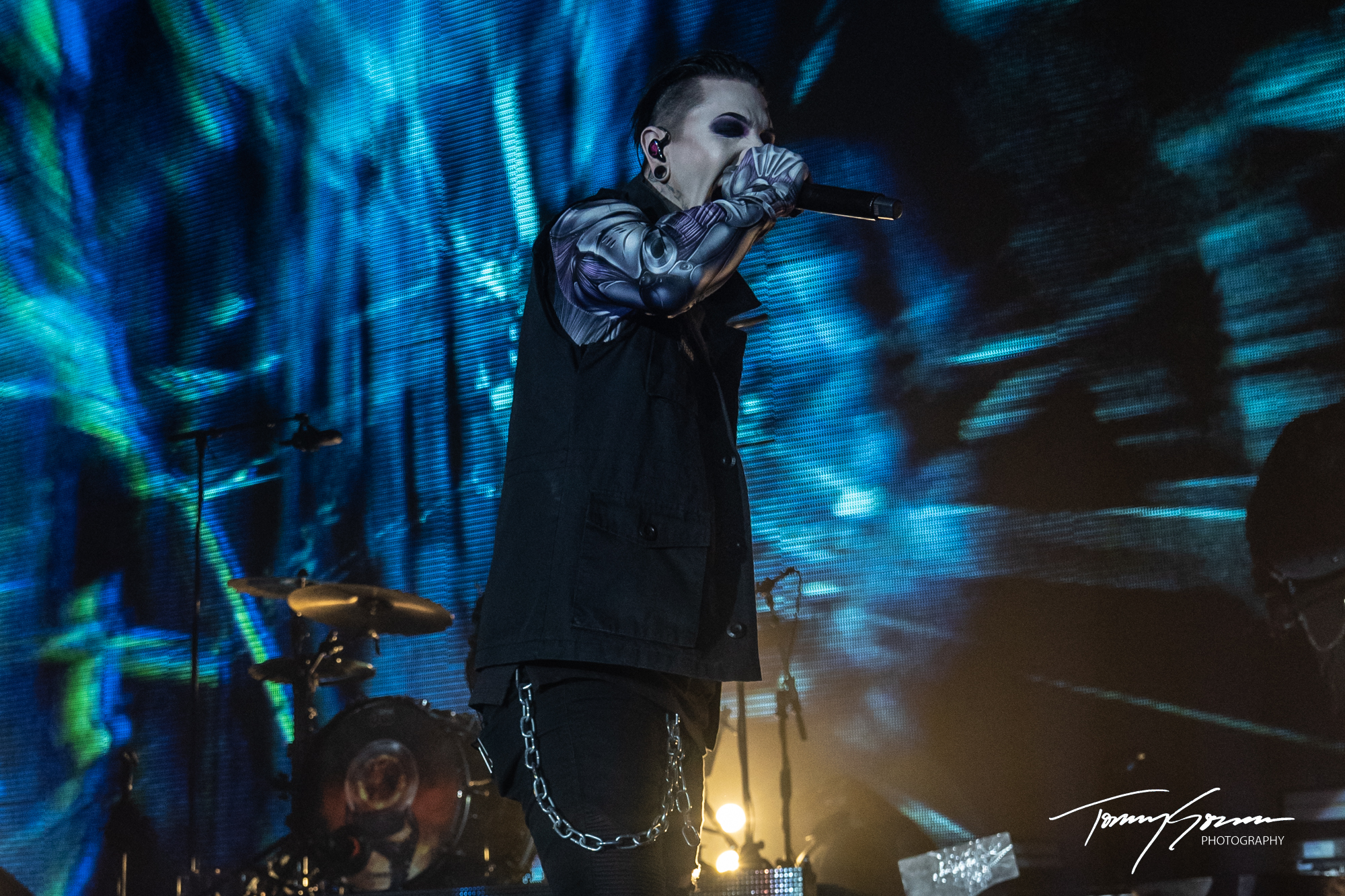 They are probably one of the two heaviest bands on this ticket and there's something interesting about them. I was looking forward to seeing them because they put on such a great show. They've got some catchy songs and I can see why the audience relates to them. They are currently on tours supporting their latest release Horrorwood.
Motionless in White is currently on tour supporting their latest effort, Scoring the End of the World. which is a fantastic record that again proves that rock is not dead. All four of the bands on this package are still releasing new music. For me having seen so many shows in all my years, it's great to see the place full of music fans loving something that's not American Idol.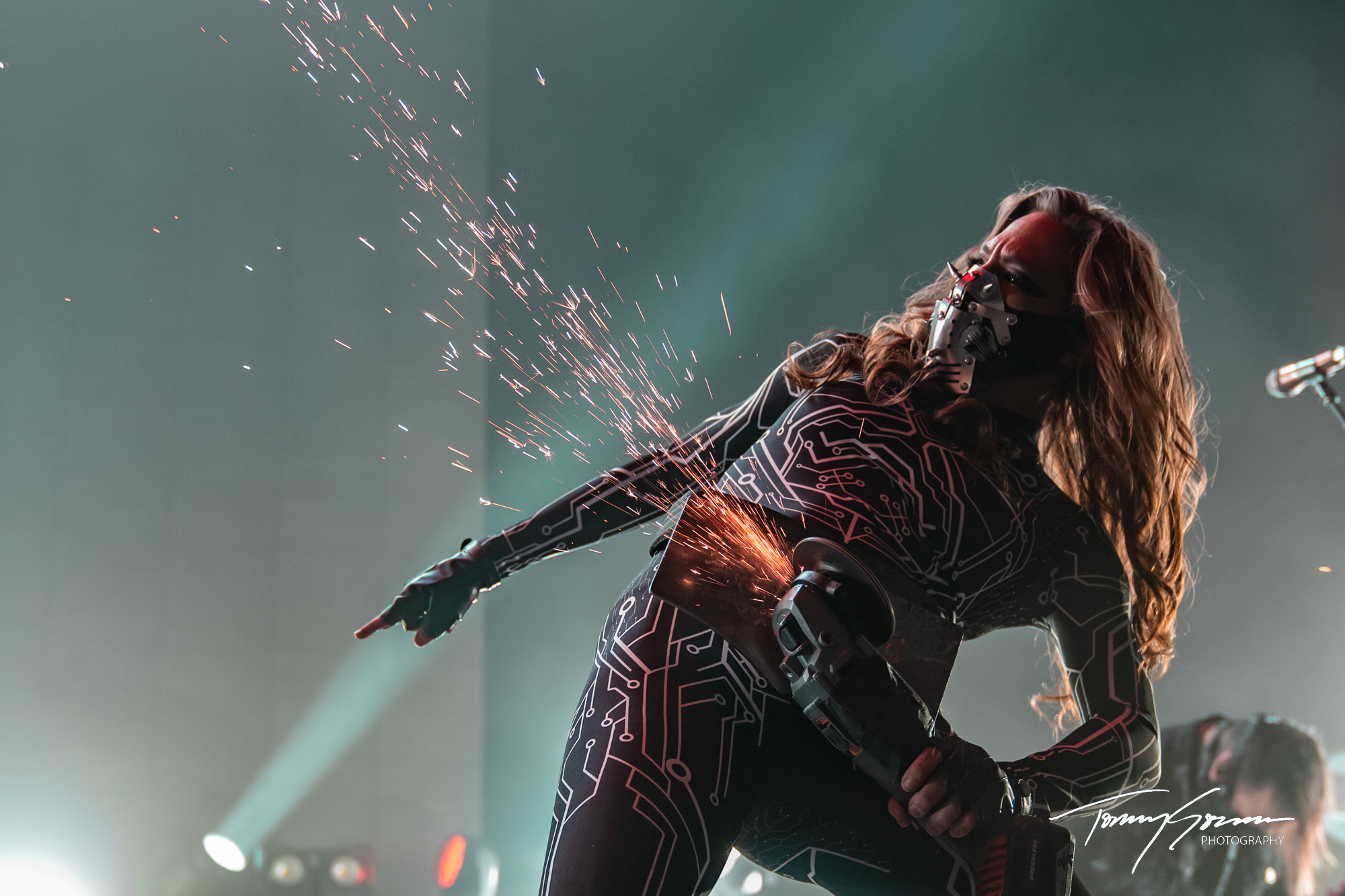 They always put on a good show but what stuck with me this night as I stood in the pit watching them play is two young kids standing about 10 feet away from me that couldn't have been more than 10 years old period a boy and a girl both singing along with every single song and having the time of their lives. As someone who loves music as much as I do it's great to see younger people find passion in it as well. Motionless in White always puts on a great show almost to the point of a vaudeville act. That's a compliment because it's not an easy thing to do to incorporate different types of gimmicks in with your songs and make them work. I would say that Ice Nine Kills is just as good at that. They're the two bands that are the most similar of this package. They opened with "Disguise", they continued and Performed "Dead as Fuck", "Eternally Yours", and "Voices" to name a few.
By the time Black Veil Brides hit the stage You could barely move in the building. Over 6400 people showed up to see this show and they got every penny's worth. Black Veil Brides has changed a lot over the years. Their music started out a lot heavier and has become slightly more pop overtime period but that does not mean for one minute that the edge has left the music or the message. I just find myself enjoying every new release that they do. Their last release in 2021 was titled The Phantom Tomorrow.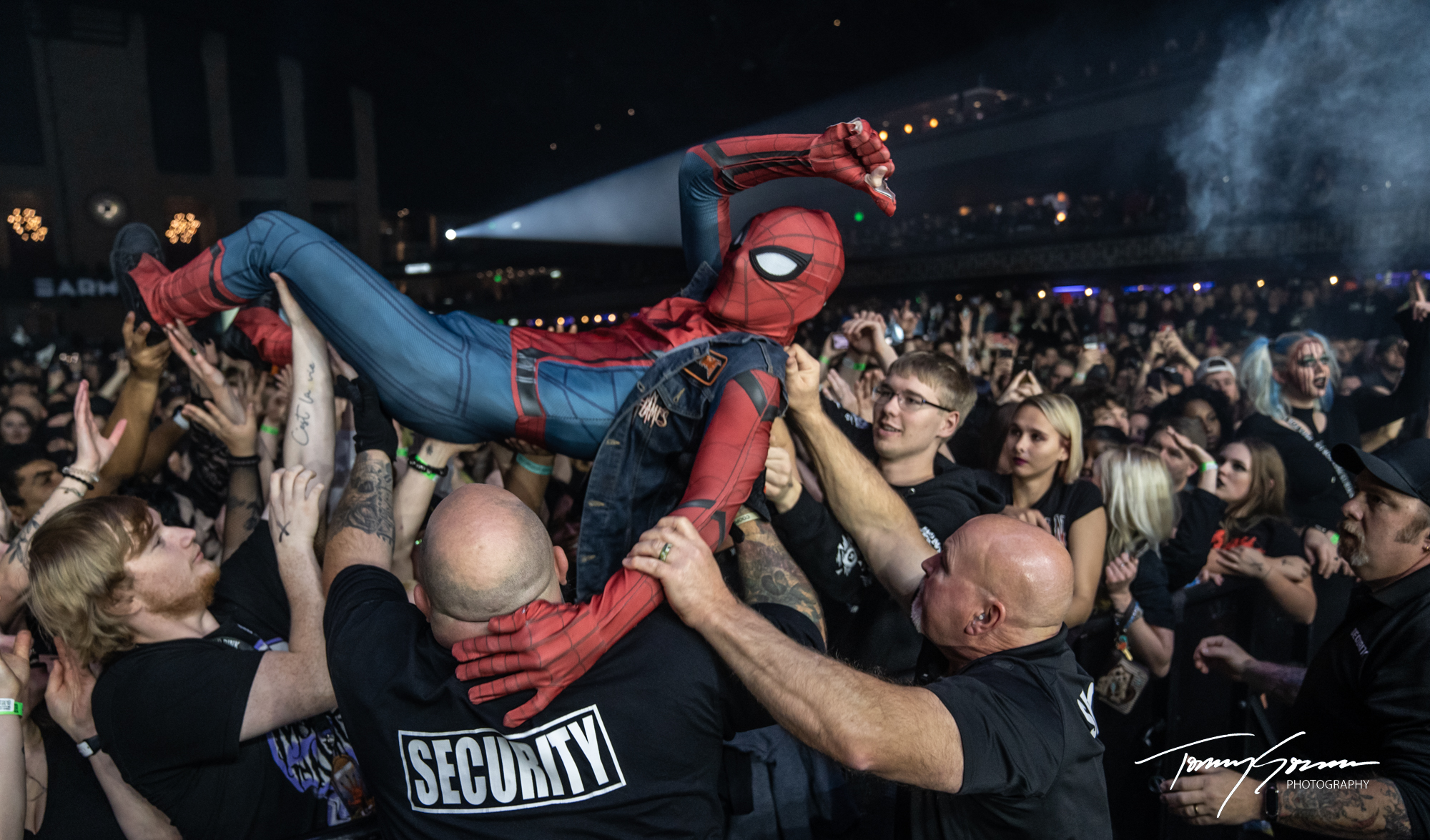 This is a band that absolutely loves their fans. They go out of their way to give the absolute best of themselves whether it be at a meet and greet or playing for an audience. It's been fun to watch them rise in popularity from small bar band to playing a prestigious place like The Armory. They don't have a horror motif like some of the other bands. They're taking it a different way and really pushing the lighting element, the large screen behind them and the participation from the crowd to really push them over the Cliff. This makes for an incredibly exciting performance from a great band.
They performed several of my personal favorites including "Fallen Angles", "Scarlet Cross", "In the End", and "Crimson Skies". They are a band at times that, in my opinion has been overlooked a little. This is the perfect tour to cross pollinate fans for all these bands. I can't imagine if you are a fan of 1 that you are not a fan of all of them. Black Veil Brides has been a great live band every single time I've ever seen them. They have a very dedicated fan base who love to mosh and crowd surf. That is another thing that I like about all these bands, every single one of them gives the fans what they came for. They encourage people to have fun. Maybe, it's just me but I feel like so much of that has been missing in music for many years. Who knows maybe, the next time one of these bands comes to town, I will try crowd surfing. During the black veil bride set, the kids were coming over the barricade in waves. Sometimes 6 at a time. The poor security guys who are all cool we're working their butts off to keep everybody safe and help to deliver a great show for all the people who attended.
Black Veil Brides deserves your respect and attention. I don't care what bands are your favorites, if you like rock'n'roll with a very heavy edge, open your ears and give them a listen. I promise you that you will not regret it. If you do end up regretting it, well then you can fuck right off!