Photo credit: Daniel Vasquez/@danielvasquezphotos
On Tuesday, July 19th, Hennessy held an intimate dinner celebrating Torae Carr's new position as President of the Recording Academy's New York Chapter at Tao Downtown in New York City.
LVMH's Daytona led a Hennessy toast celebrating the multifaceted Torae; rapper, songwriter, media personality, husband, father, and professor. Guests Sway Calloway (Shade45), Datwon Thomas (VIBE), Bonsu Thompson (Hard2Earn), Ron Mills (SiriusXM), Life (Hard2Earn), DJ Reg West, Tayler Carr, Jessica Mortime (Motown), Rose Daniels, Amber Ravenel, Jeff Rosenthal (itsthereal), Eric Rosenthal (itsthereal) all shared special memories with Torae.
Torae said, "Last night was a truly amazing night. To have that caliber of people show up to celebrate meant the world to me. Having people I've encountered throughout the business grow into a family is a part of the journey I never knew could occur. Every aspect of my career was represented in some way at that table last night and I'm forever grateful. And according to the words spoken the New York chapter of the Recording Academy has itself one hell of a new President."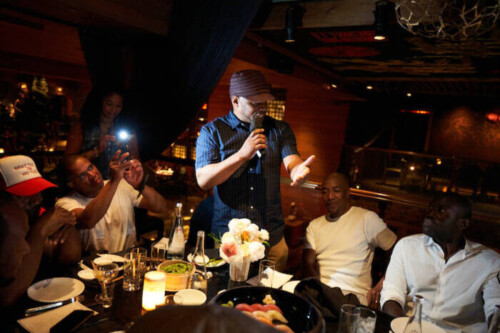 Photo credit: Daniel Vasquez/@danielvasquezphotos
© 2022, Seth Barmash. All rights reserved.