The Black Crowes delivering 'Shake Your Moneymaker' at the Palais Theatre tonight was a spiritual experience, as close as Rock and Roll gets to religion. If you've never seen a band that makes you realize how important music is to life I pity you, and if you were here I know you understand.
It had been 32 years since I last saw the Black Crowes for the first time, back in 1990 they hit the U.K. supporting a little known band I used to follow around called The Dogs D'Amour. It was a show that changed everything for me and still after all these years one of the very best concerts I have ever seen. Tonight at the Palais in Melbourne, a venue that was changed earlier in the day from the Palais Foreshore due to our wonderful weather we're enjoying in Australia at the minute, The Black Crowes proceeded to blow me away all over again. Not that I haven't seen them many times over the intervening period (I followed them around Australia 12 years ago) and whilst I've loved every show tonight we got the perfect record delivered by a flawless band who by the time they hit 'Seeing Things' the tear I already had in my eye had been joined by his mates.
First things first though, 'You Am I' were certainly one fire tonight and pulled out some real Rock and Roll of their own fired up and ready for it they lit up the stage with their own brand of Blues-infused mayhem and despite a singular heckler who was dealt with, with wit and charm, the band were in rare form. I can even forgive Tim erroneously claiming that he loves the Black and Crowes more than me,  and maybe even forgive them enough to get out and see them again.
The anticipation in the room after that was palpable and running half an hour behind, which was remarkable in the circumstances, the crew quickly revealed the full stage, strewn with amps and risers from drums and keys and backing singers and the two Crowes tour logo looing large behind it all.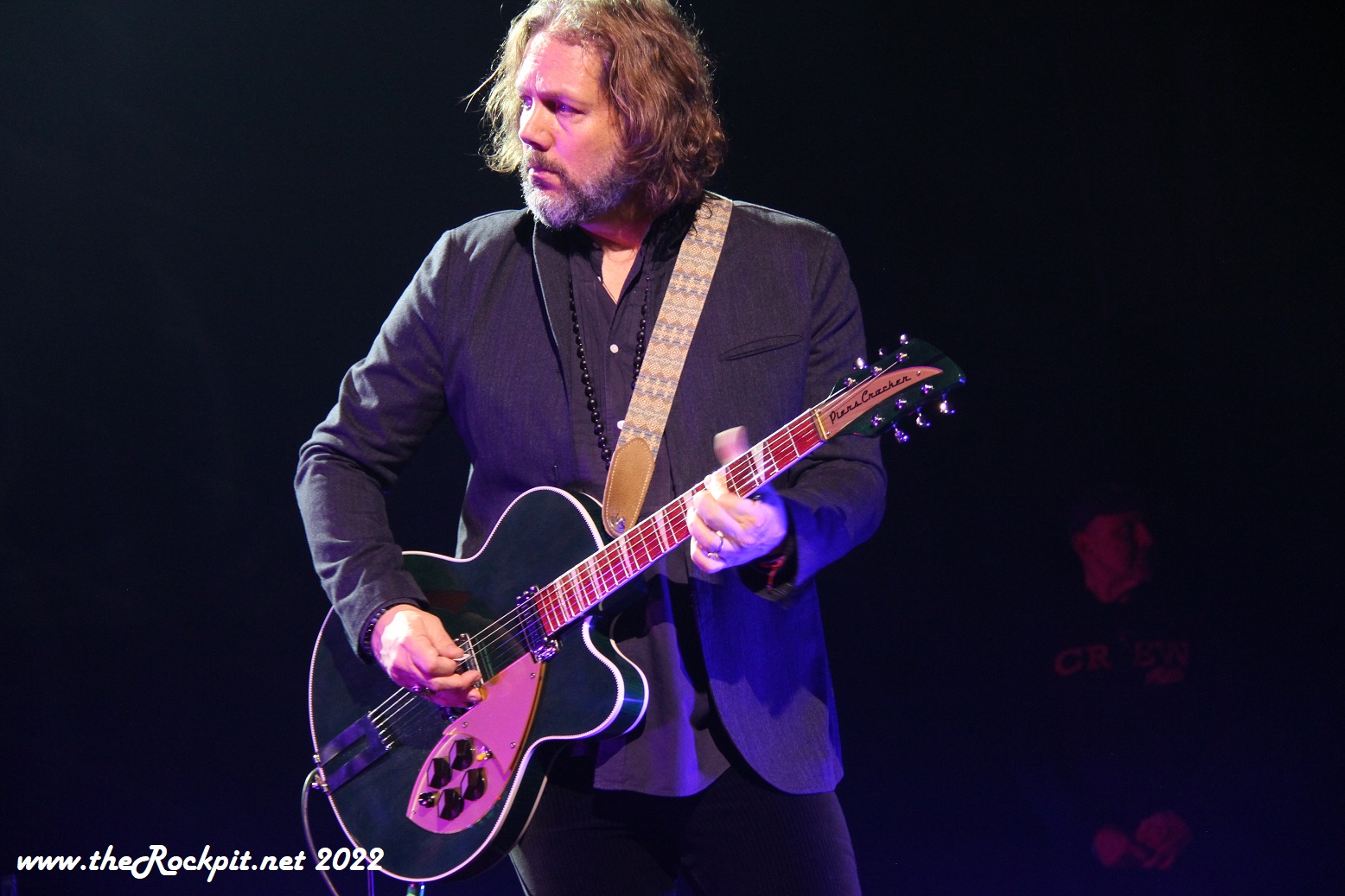 And as the lights went down it began, the whole room on their feet, the whole room screaming and as 'Twice as Hard' opened with Rich playing that wonderful riff on his Rickenbacker before the band cascaded in and Chris raised his microphone stand above his head to signal their arrival. I was breathless after that from singing so hard and scanning around the audience all you could see was a sea of smiling faces, everyone dancing and everyone singing every word. Of course 90% of the room knows what is coming next and somehow that adds to the anticipation.
'Jealous Again' that first single 32 years ago kept everyone moving and allowed you to check out the band with new recruit, the exceptional Isaiah Mitchell on Lead Guitar, Brian Griffin on drums, longtime band mate Sven Pipien on bass and Erik Deutsch adding his magic on keys. We also have two female backing singers who really fill out the sound wonderfully with their gospel touches and accents. All in all it brings the songs to life in all their glory and even at times adds even more to the mix.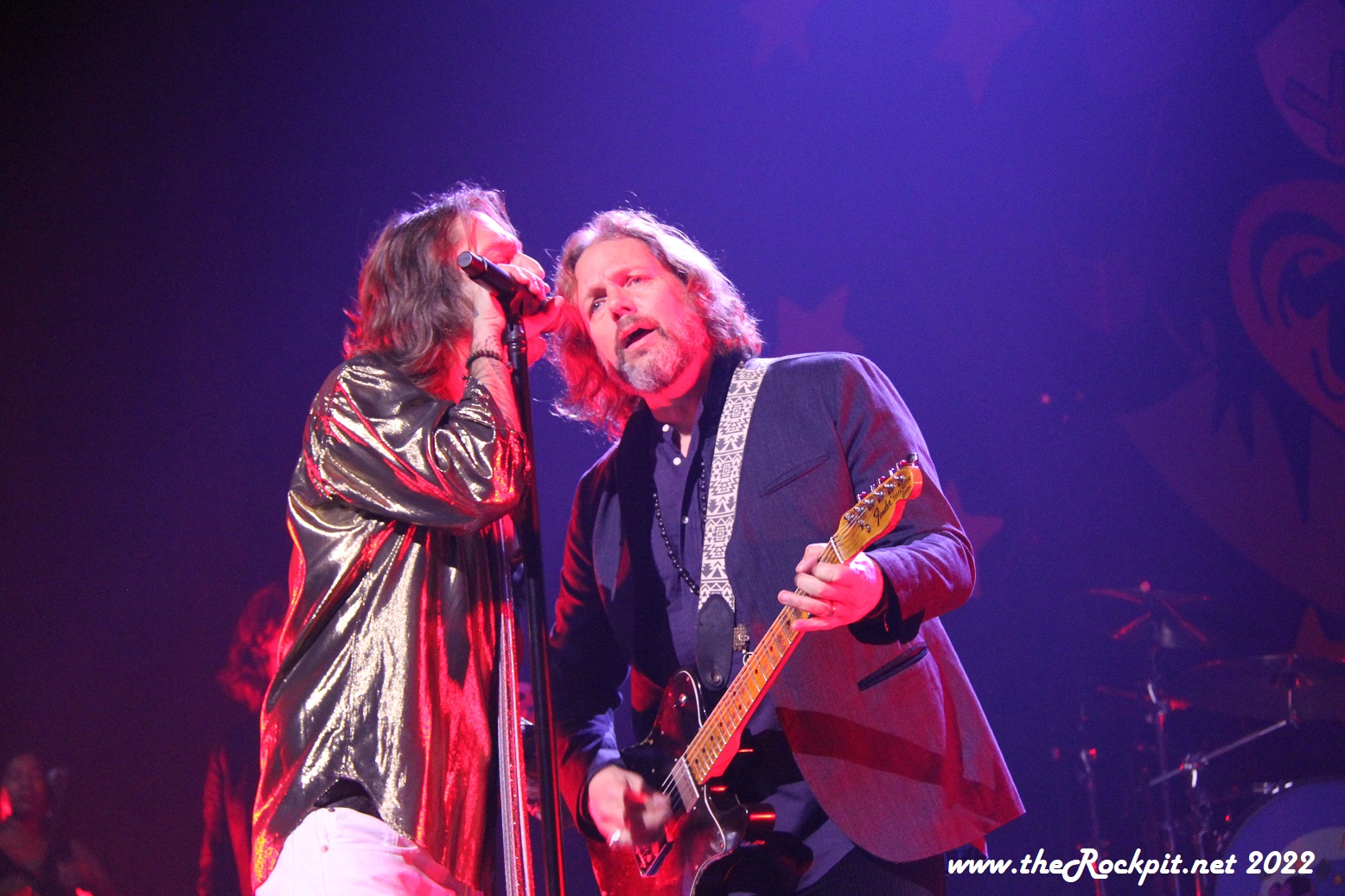 For a Rock album released in 1990 'Shake Your Moneymaker' was remarkable in that it pushed against the scene of the day, looking back to the 70's and 60's rather than tagging along with the Hard Rock scene that was still filing arenas. It was also remarkable in that it featured three incredible ballads which I talked to Rich about when I interviewed him recently. Tonight I found out that it's hard to take photographs with a tear in your eye, but the first came with 'Sister Luck' a song that has always been incredibly important to me and judging by the crowd to so many here tonight too. Chris' delivery is exceptional and tender, and whilst when he's rocking he come across as part Jagger and part Faces-era Rod Stewart, man can he do heart-wrenching! And when you add the that the harmonies from the band and backing singers you have something that is far more than just music.
I'm back in my seat for 'Could I've Been SO Blind' after dancing my way back from the front of the stage with anyone and everyone on the way, and with cameras stowed I'm immediately up on my feet too belting out the words like I learnt them yesterday rather than decades ago. It's one of those peculiarities of youth and a pre-internet age that you can still plug lyrics out of thin air, well me and everyone else here too!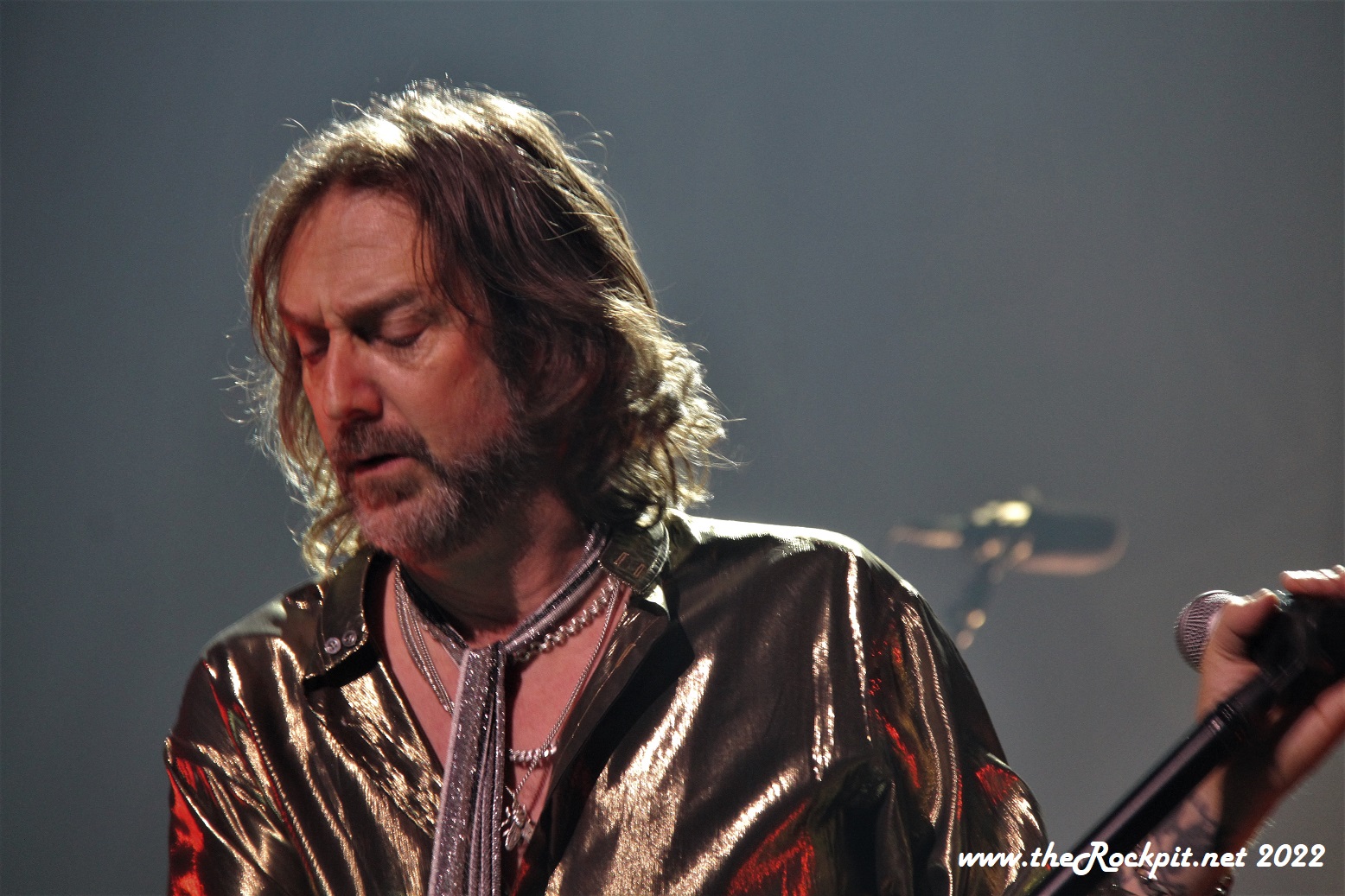 It's 'Seeing Things' though for me that is the perfect storm tonight and I can feel the tears start to flow even before a word is sung. It's like the band is reaching out and touching your heart and as Chris hits that wonderful refrain you can feel the almost gospel resonance that can't fail to move you. It takes your breath away, but the wonder of 'Moneymaker' of course is that you can follow that with Georgia's finest Mr. Otis Redding's 'Hard to Handle' and start the party all over again.
We keep rocking with 'Thick n' Thin' a breakneck boogie that keeps the dancers dancing and the beer and wine flowing before what might just be my favourite song from the record 'She Talks to Angels' takes the mood down again. As ballads go I've always wondered how an 18 year old Rich Robinson could come up with that guitar line which as soon as I hear it I'm moved, This is music that means something, music to touch you, music to mend a broken heart, It's sublime.
Anyone who knows the album knows that we go out rocking and there's a mighty fine rendition of 'Struttin' Blues' before we get to the (almost) album closer 'Stare It Cold', As the crowd applauds and the band belt out the intro and unwelcome visitor runs across the stage towards Chris pursued by security, he's fended off with a mic stand and makes a run to Rich's side of the stage where he's met back now three security guards and the butt of Rich's guitar. It's a flash of darkness in what has been a sublime evening and the band is rightly angry and the invader is rapidly ejected. Whether it's  drunk passionate fan or a crazy doesn't matter it's the bands stage and you only get to share it when invited.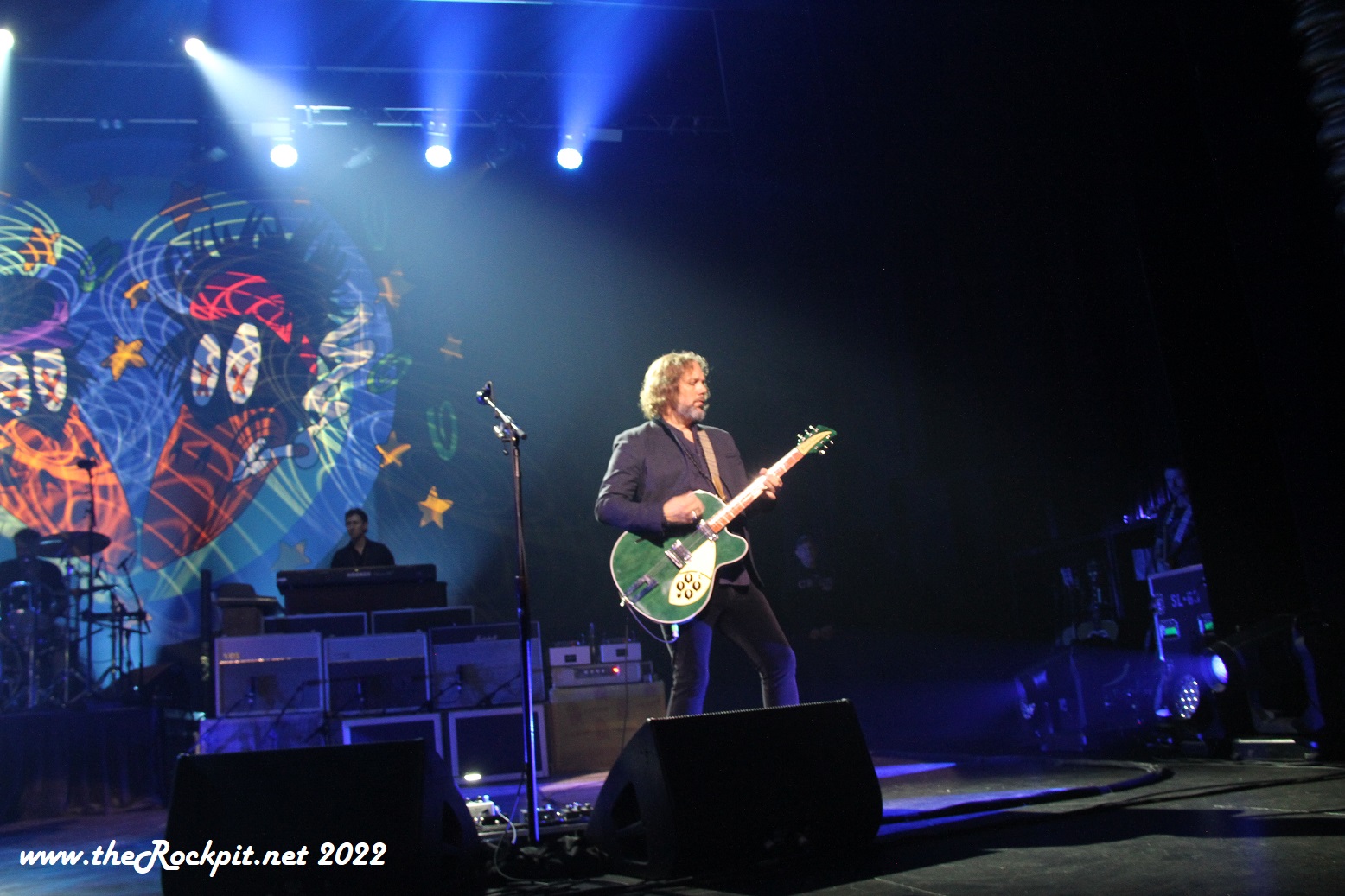 The best part of course is that we get to start 'Stare It Cold' again and it's a wonder to hear an entire room thrown off by a few seconds of madness get right back into having a good time. I do wonder if we will get to hear 'Live Too Fast Blues Mercy Sweet Moan' the 'hidden' track that closed 'Moneymaker' but we don't tonight, I blame the stage invader.
Last tour seeing all of the Crowes shows was a real treat, the band is known for never playing the same set two nights running and has been mixing up the second part of the set in Australia. It's a wonderful opportunity to get back to looser more expansive Crowes too, with 'Moneymaker' played through relatively faithfully it's when the Crowes spread their wings that things get sublime. We start with a solid rocker in 'Horsehead'  and it's great to hear something of the underrated 'By Your Side'  but its 'Under a Mountain' where we start to fly which sees Rich on side and opens with a darkened stage. It's a song that pushes out to become so much more but which feels like a warm up for 'Wiser Time' which is swept away with wonderful guitar, before the set-piece of 'Thorn in my Pride' which Chris introduces as being 'Born from a dream on a very rainy day'. with its sublime breakdown and Rich taking centre stage with Chris to solo before Chris himself takes a harmonica and wails. It's all brought home by some sublime keys and the backing singers' sweet harmonies as Chris dances like Rod did in 1872, twirling his mic stand to the roar that greets the end.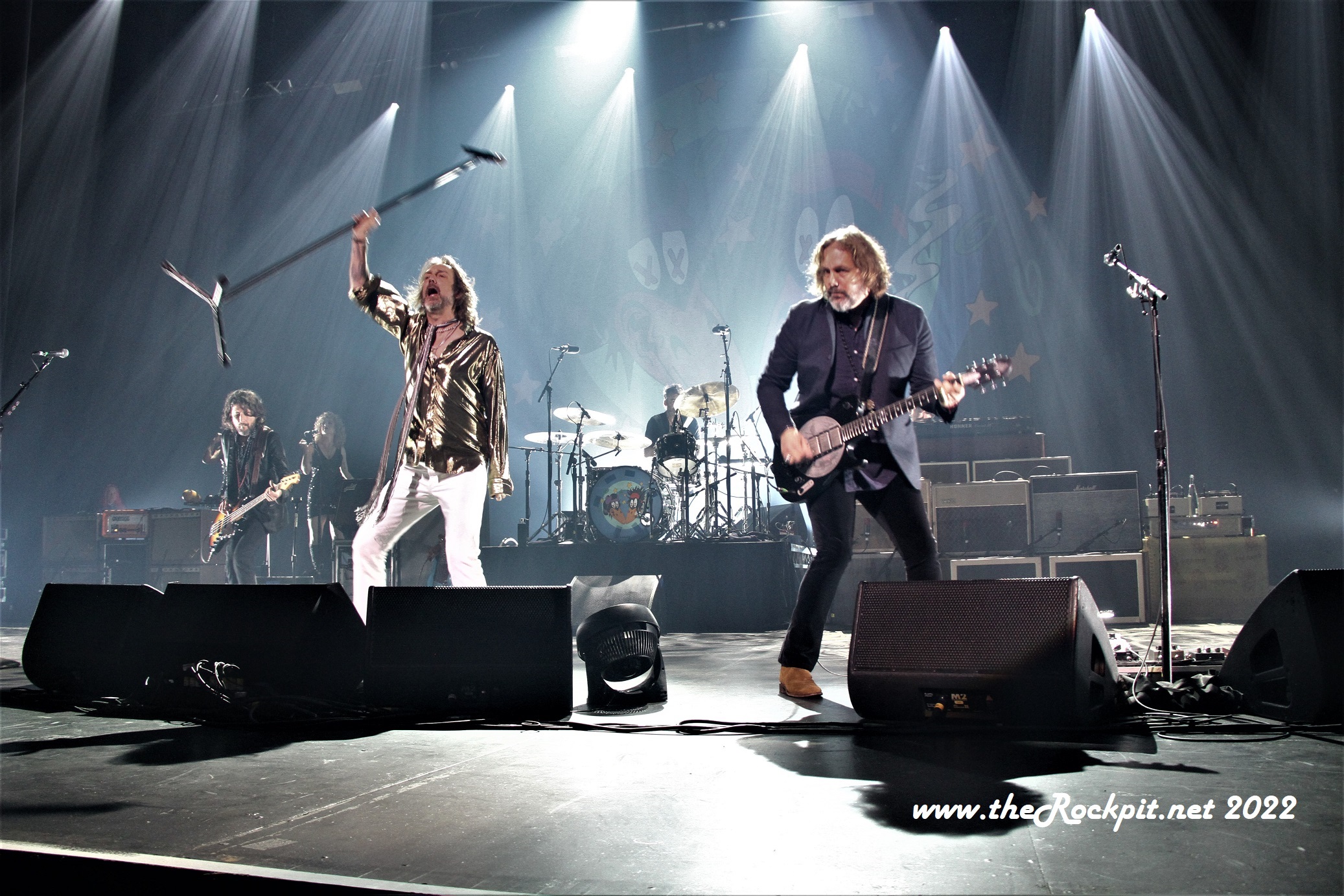 "Melbourne do you feel good? Do you feel alright?" the screams that greet the enquiry let you know that most hear know what comes next – 'Remedy' The Crowes biggest song in Australia and one that led the charge for what might just be the best sophomore album ever in 'The Southern Harmony and Musical Companion' it's a wonderful way to end a wonderful set and comes with a great breakdown and everyone on stage making their stake for part of the song. And then it's over, the band walks off stage and the lights dim Of course we know they will be back as we've not had the obligatory group bow!
After a few minutes of people telling other people that they can't quite believe how awesome tonight has been, they're back. I must admit whilst I didn't look at the setlists for the tour I did look at the encores so whilst Sydney got Joe Cocker's 'Space Captain' the first night and 'Virtue and Vice' the second, and  Brisbane got Bowie's 'Moonage Daydream' , I'm kind of glad we got 'Rock & Roll' by the Velvet Underground.  It's a Rock and Roller of the highest order and just the thing to close the night. We've had it all tonight and as the band walk off to rapturous applause after taking their bows we're all still talking about it to complete strangers by the time we turn down Fitzroy Street. The greatest concert I've seen this century without a shadow of a doubt.
Many thanks to Live Nation and The Black Crowes
An expanded photo gallery to follow over the next few days.