Last time STRYPER visited us down under back in 2018 it was a three piece with guitarist Oz Fox unable to make the trip after a serious illness stopped him making the trip. After regular trips Down Under since their first visit in 1989 tonight is a first in that it marks the West Coast of the U.S. band's first trip to the West Coast of Australia. There are people out there who have condescendingly sneered at the band over the years for their Christian lyrics but if you have never seen the band before it's hard to describe the sheer level of musicianship on display. STRYPER is a band that has just got better with age and whether you come for the music or the message or both if you're a fan of Hard Rock and Metal then you won't find a band that elicits more passion from their crowd.
Tonight might now be your average Rock demographic but they are particularly diverse from old school rockers to those taking the chance to see one of teh best live Rock bands on the planet pull out all of the stops. They're certainly knowledgeable too and very friendly – I talk to an 18 year old kid who not only knows his vintage Stryper but also the newer material, and there's the young couple at their first Rock concert and the old grey bearded guy who tells me this is the best night of his life! And that's all before a note has been played!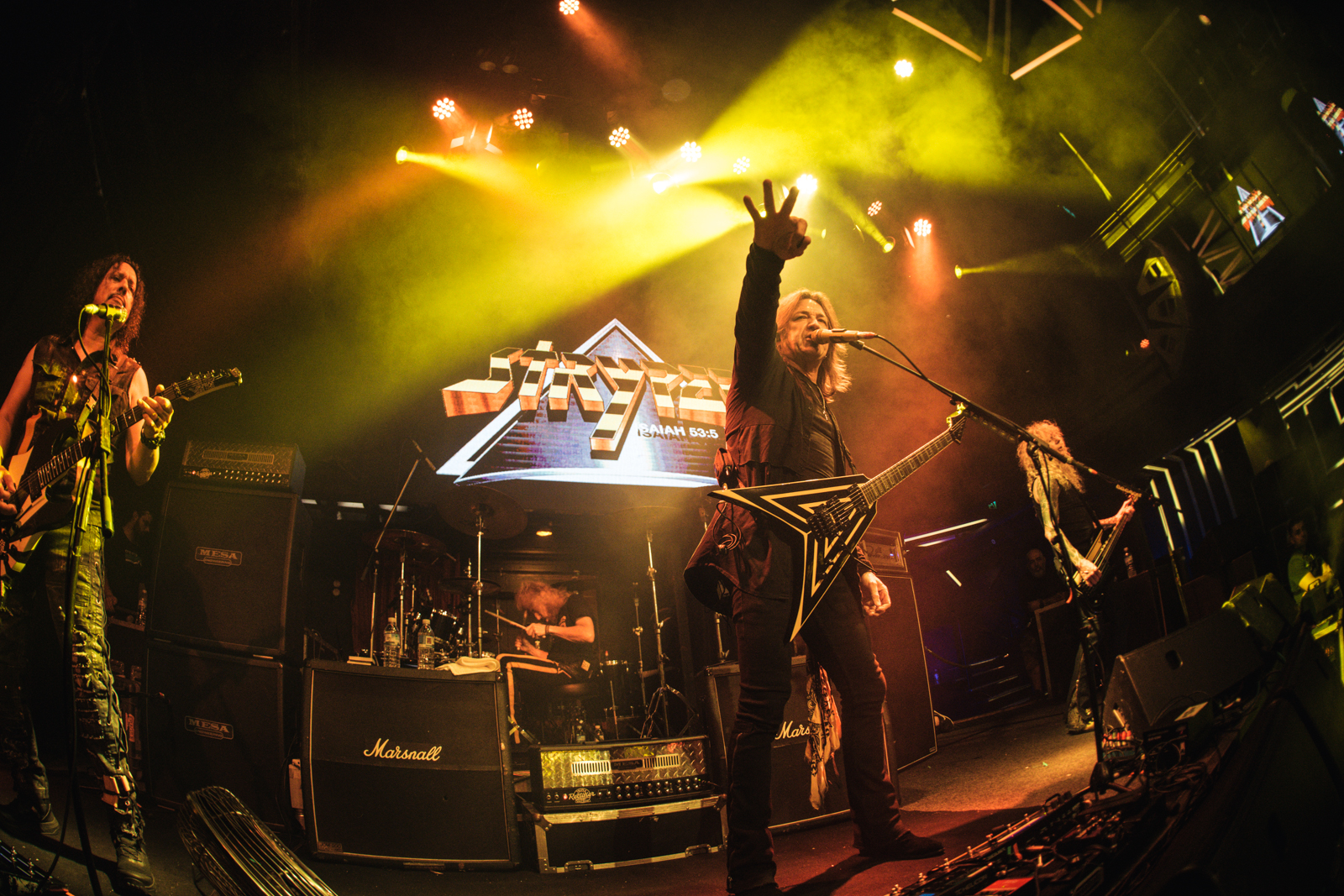 Support tonight is rather unusual at first sight – a Thrash band from Sydney called Panik who take their cues from the old school sounds of Metallica and Anthrax and put on an entertaining show that goes down rather well with the crowd. There's plenty of fits pumping mayhem, some funky breakdowns and plenty of energy and it doesn't go unrewarded with the crowd getting onboard early. With songs like 'My Imperfection' and a sneaky cover of 'The Four Horsemen' they're one to watch and a contrast that worked ridiculously well.
By the time the Christian Metal icons take the stage the crowd is more than ready to receive them and with the Stryper sign held high teh band takes the stage to one of teh loudest welcomes I've heard all year. It might be a Tuesday night in Perth but there's clearly only one place to be an with Oz back, he Michael and Robert are joined again by  former Firehouse bass player Perry Richardson who was here with us back in 2018.
Whilst we got a taste of teh new to open last visit this time the iconic 'In God We Trust' leads the way from the album of the same names that came out an incredible 35 years ago this year. It's followed by one of the best from 'No More Hell to Pay' in 'Revelation' before To Hell With the Devil's 'More Than a Man' which for me is one of the real gems of the catalogue.
Now whilst it may not be rare that the crowd sings along to every tune it's rare that you see a crowd where everyone is  raising those hands fist-pumping and singing along to every single song. There's a level of togetherness in the crowd tonight that you rarely see or hear and at times  you feel that resonance in the room that makes you feel there is something more going on here that just another Rock show. As a drummer of a local band tells me at the end "seeing Stryper is like a religious experience, without being religious" I know what he means there's something indefinable about the whole show especially when we get to epics like 'All For One' or the magical one-two of 'Soldiers Under Command' and 'To Hell With The Devil'.
With a set that melds old school Stryper with their wonderful more recent output the balance is perfect. Michael Sweet still hits all the notes as effortlessly as ever and the new rhythm section of Robert Sweet and Perry Richardson sound wonderful. We're blessed to have Oz Fox there two who holds it all together and surely is one of the best backing vocalists out there.
The big moments for me in a set without a weak moment have to be those classics like 'Calling on You' and 'Always There for You' but also the newer tracks like 'Sorry' and 'Divider' which sound like they've always been there. There are of course the traditional moments like copies of the New Testament being thrown into the crowd along with picks and I'm happy to say I caught one of each and gave them both away. It just seemed like the right thing to do!
If you live in Adelade of Brisbane and have any reservations about getting a ticket to see those guys then don't This is one of the best shows you will see all year, and a band that sonically have never sounded better. And as encores go I loved the snatched of classics like Zeppelin's Rock and Roll. What was priceless for me though was the band starting the opening to Judas Priest's 'Grinder' before Michael decided he wasn't quite comfortable singing about "Meat in a  grinder." It was a great way to end the show. God bless you all.
PHOTO GALLERY TO COME
Setlist:
In God We Trust
Revelation
More Than a Man
Surrender
Calling on You
Free
Sorry
All for One
Always There for You
Divider
The Valley
Yahweh
Soldiers Under Command
To Hell With The Devil
Encore:
snatches of classics including 'Rock n Roll' by Led Zeppelin and 'Grinder' by Judas Priest