Kings Park as an outdoor concert venue serves Perth extremely well, its lush surroundings and tranquil setting allows a full emersion of the senses when it comes to live music. The 6,000 plus sold-out crowd were about to have a sensory "overload" at this beautiful site enjoying the start of a 10-date National tour. Fans filter in early, eager to find their seat or space on the perfectly manicured lawn – looking for their view that will create another music memory to reflect upon.
The support for this National tour is Joe Sumner, a name that the faithful would find familiar with and stock that any musician would welcome in their musical stable. Joe delivered a tailored package filled to the brim with entertainment, lined with strong vocals and technical guitar, Joe primed the punters. Understand that Joe was keen to carve his own path out on the music scene it was hard not to see the comparisons and admire the unique blend of which his talented surname held.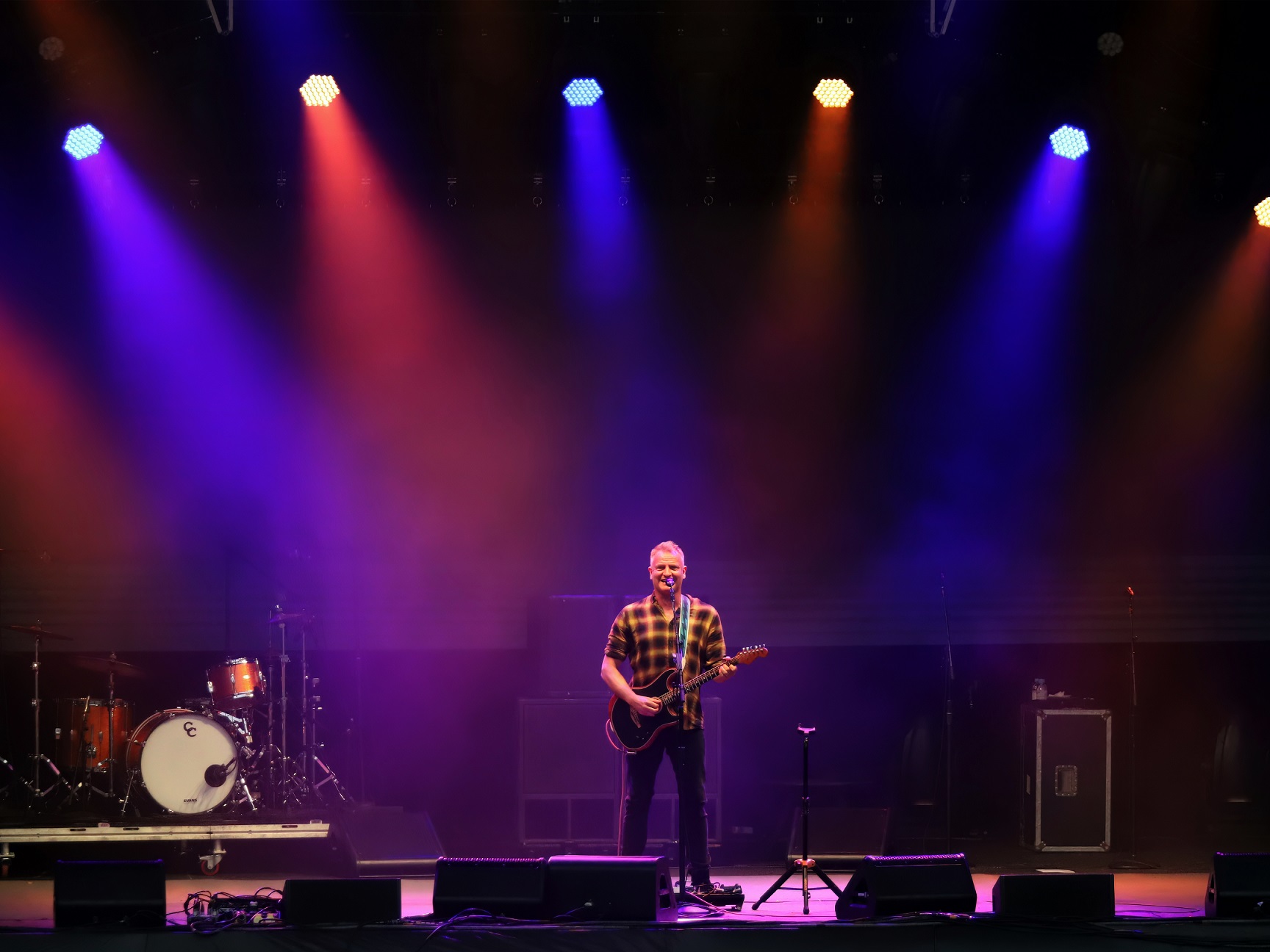 The house music slowly creeps in on the back of Joe's set and the fans begin to readjust, endure refreshments from the bar or grab the obligatory toilet break before the main event. You really get an understanding just how much music means to people by just how quickly they move between "sets". Like a migration of birds, it serves purpose and has a high degree of importance – after all this is "Sting" we are talking about, and this bird has not been back to our shores for a few years!
The lighting tower and sound desk come to life, like a blooming flower during the first light of day, silhouettes saunter across the stage as the light breaks through. The talent is recognisable – mostly local, we are all in for a treat. Domenic on Guitar, Kevon on keys, Zach on the drums, Shane on the harmonica, backed vocally by Gene and Melissa and the performer that everyone has come to see "Sting". The crowd erupts, the emotional faucet fully open with passion spilling over the adoring, just when you thought the appreciation could not get greater "Sting" opens with "Message in a bottle" – the faucet is now broken, emotional reflection gushing out with no reprieve in sight…… everyone is ecstatic……… no one care about that leaking tap!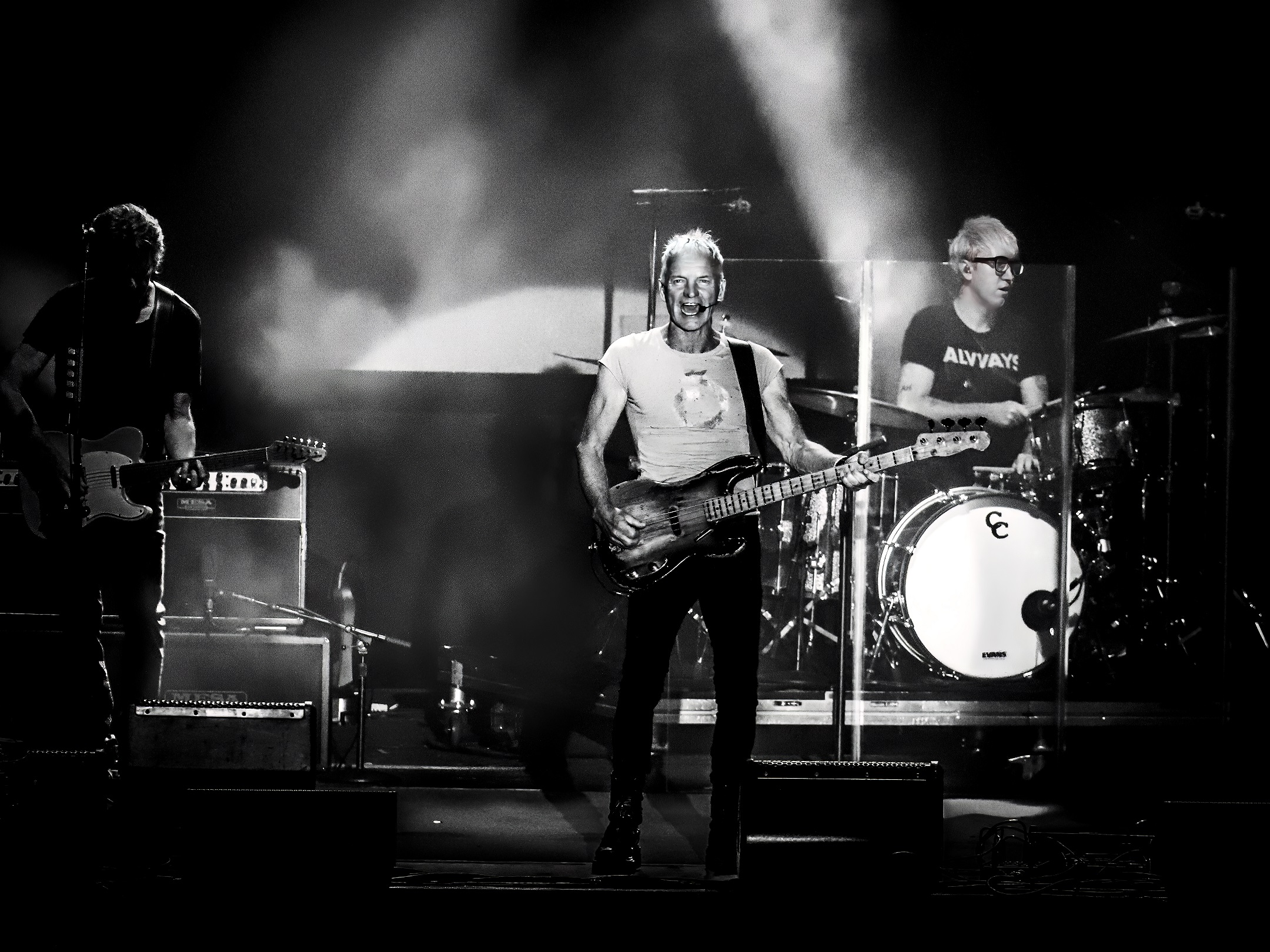 Sting cuts a formidable figure, molding his body to the same level of his lyrical prowess, you could easily forget that he is 71 years young. Free flowing across the stage, engaging the crowd and cheekily "photo bombing" fans in their pursuit to get the perfect photo of this rock "Icon" – very appreciative and playful.
The song list is calculated and measured – a mix of his solo career (from the back catalogue and some from the new) with dashing's of "The Police" sprinkled all over the top. As a product of his earlier material, I really enjoyed the newer offerings – they affirmed that "age" has absolutely no bearing on just how good a performer he is ("Rushing Water" being one of my new favourites).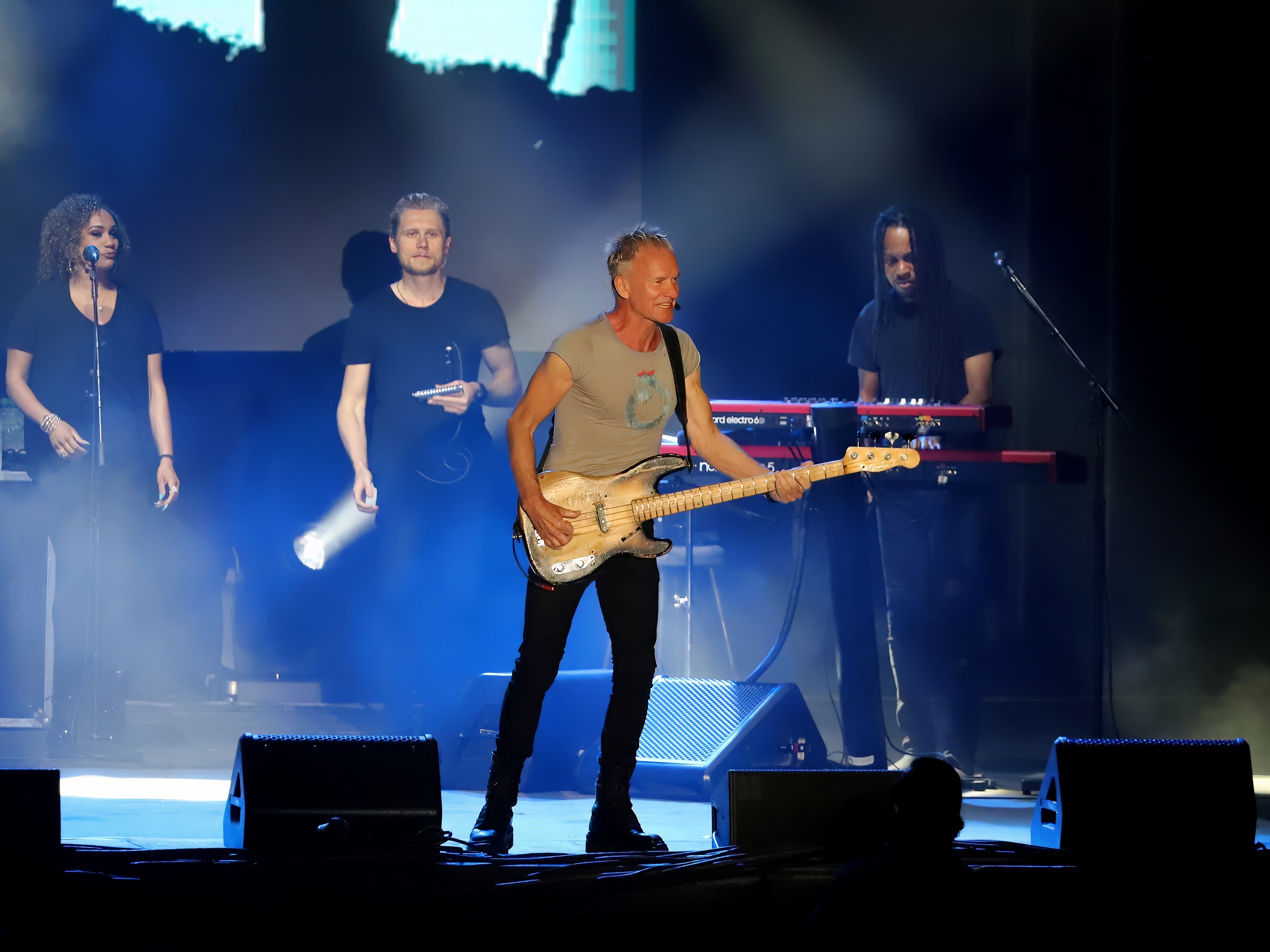 There were so many highlights for me in this show, "Every little thing she does is magic" – had everyone up and out of their chairs. It was a 6000 plus karaoke sing along that was clearly a crowd favourite. "Fields of gold" saw all the mobile phones light up on the hill and the reserved seating like a sea of moving stars, coupled with an amazing show of golden lights it truly was something to behold. "Man on the moon" the 1979 classic went collectively off for me, I sung so hard and I was not alone, the rest of the faithful masked just how bad of a singer I am (thank god). Domenic stole the spotlight in this song with some spectacular string work with the crowd showing their admiration. I loved the forward introduction of both Melissa and Gene – the musical dualling between them and Sting on both "Heavy cloud no rain" and "Shape of my heart". Both came into their own upping the tempo and the diverse vocal range giving "Sting" smiles at the end of each engagement. "Wrapped around your finger" is one of my all time favourites……. I welcomed the change of tempo as it was needed for me to catch my breath.
"Every little step you take" 1982 hit rounded out the main set – smiles plastered on every one's face knowing full well that there was an encore coming. Which songs would be chosen? Such and extensive back catalogue of award-winning hits it was impossible to guess. Sting re-emerged once again awaking the emotional musical monster lurking in all of us…… we did not want it to stop – 10 more songs! Please……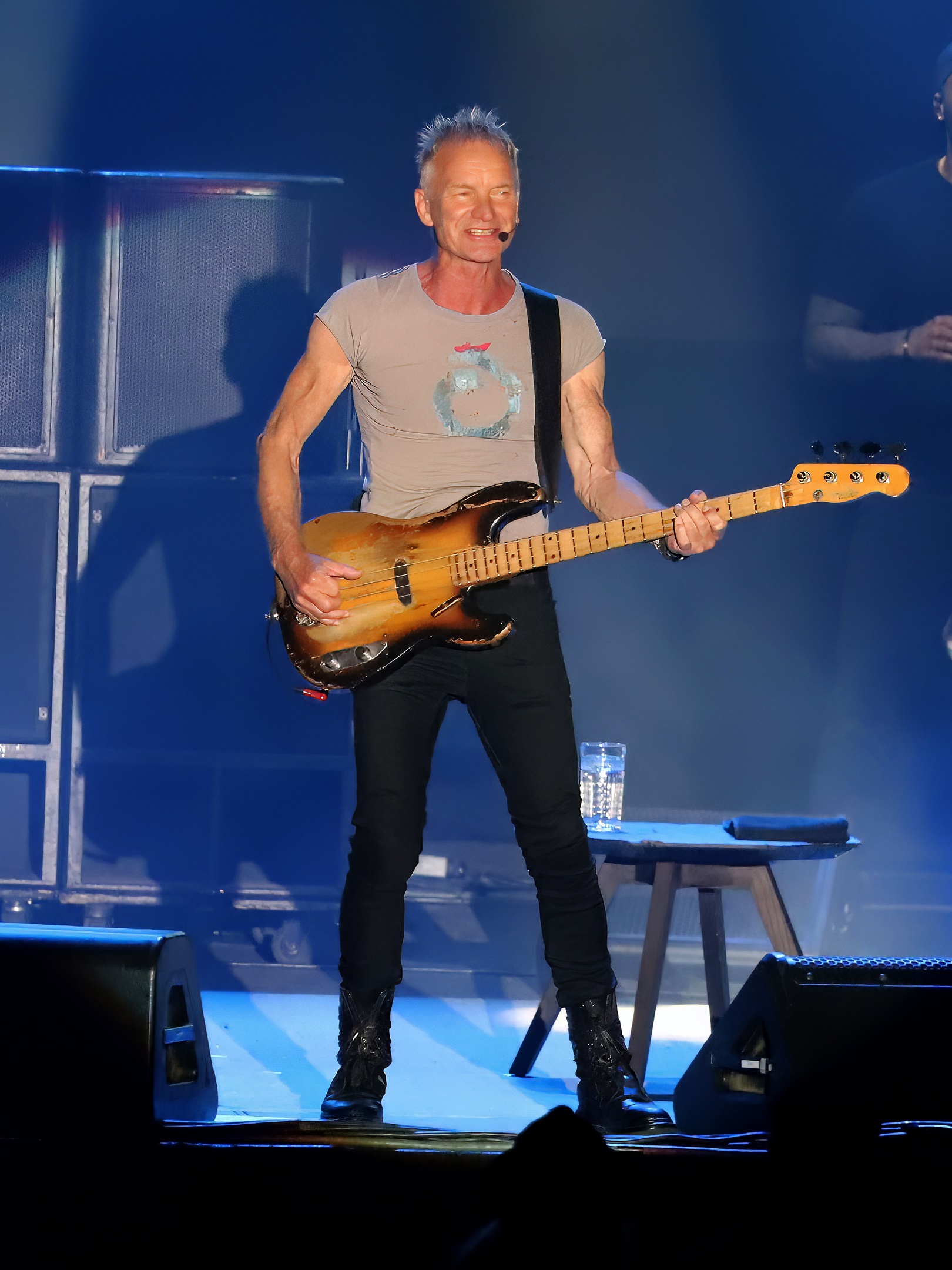 Encore
"Roxanne" came straight out of the gates rubbed with hints of reggae morphed into fiery phoenix released to roam free amongst the adoring fans. It had been patiently waiting in its cage for the whole set and Sting finally set it free. Rounding out the encore was "Fragile" a beautiful song rich in meaning and purpose sung by the man of the moment – just him, his classical guitar, a spotlight and thousands of revering fans. A fitting end.
Sting at Kings Park was a concert that I will never forget……music gives the listener the ability to transcend – it evokes emotion and gives power to re-live memories. There were several instances in his performance that I got lost in the moment, singing and absorbing the lyrics and notes. If you love beautiful music weighted with significance purpose whether it is from "The Police" back catalogue or "Sting's" extensive solo work (older to new) you need to catch this show…… Sting has crafted a deliberate journey that will awake your sense every way possible and leave you singing his hits all the way back home.
Australia get ready, you are about to have your mind blown!
Thank you Sting…. Keep writing amazing music and we (Perth) will keep loving it
CHECK OUT STINGS OTHER AUSTRALIAN DATES