If you were out walking your dog last night around the Mt. Claremont area, you would be forgiven for thinking that English Premier League soccer club, Newcastle United, had flown over to join their counterparts West Ham and Tottenham in Perth this week. The streets were buzzing with thousands of black and white striped fans, all heading into HBF Stadium. The occasion, however, had nothing to do with the round ball, but absolutely everything to do with UK, geordie rock sensation, Sam Fender!
As the crowds flocked to the stadium on a damp winter's night in Perth, you could just sense there was a storm brewing, with the eye of the cyclone due to hit centre stage in about 2 hours time.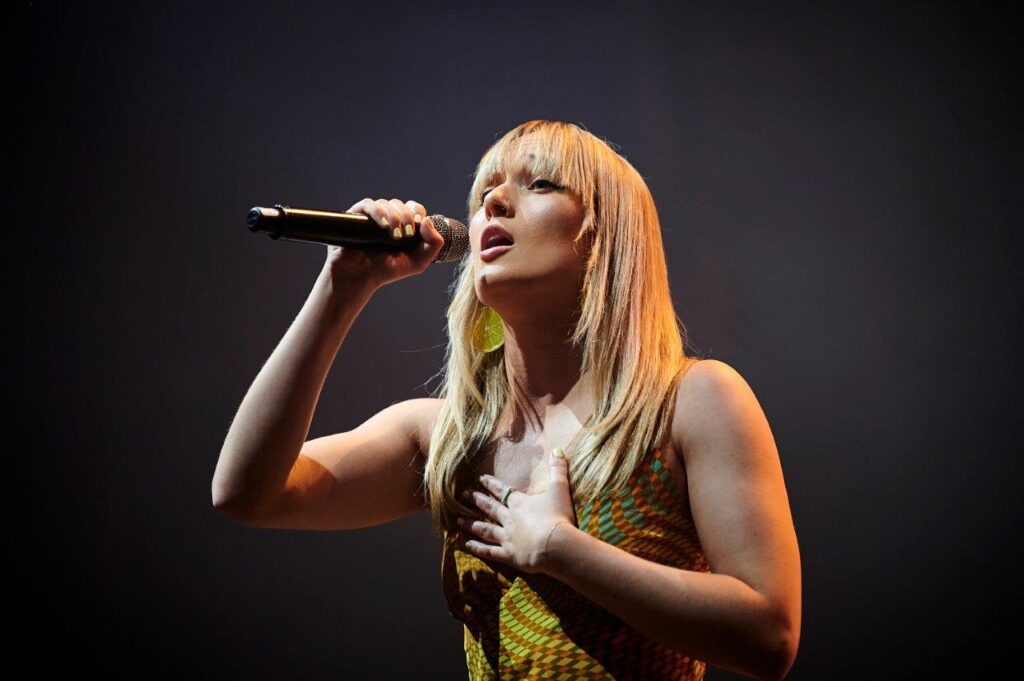 Inside HBF stadium, a near capacity crowd had already gathered before opening Aussie support act, Gretta Ray was due to appear. The lights dimmed, drummer Leigh Fisher climbed up to his centre stage drumkit and the opening strains of 'Happenstance' from Ray's 2021 album 'Begin To Look Around' filled the arena. Looking sensational in retro style, yellow mini dress and knee high boots, Gretta walked on stage to warm applause, and from the moment the pounding, four on the floor drum beat kicked in, she had the crowd well and truly in the palm of her hand.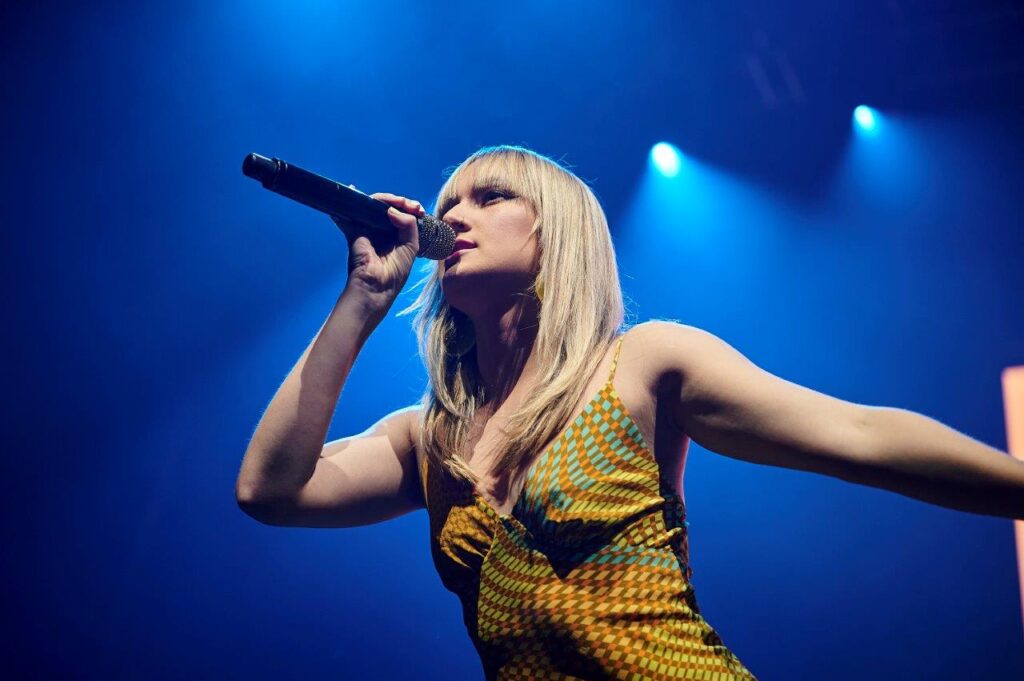 From here, it was straight into the beautifully upbeat indie pop song, 'Cherish', Ray, strutting, catwalk like, around the stage, inviting the audience to join her for the ride. The melancholically beautiful 'Radio Silence' followed, sung with an emotional honesty, as Ray drifted slowly across stage before picking up her acoustic guitar to deliver the poignantly reflective 'Dear Seventeen', a song she wrote to her 17 year old self when she turned 24.  It was a beautiful moment.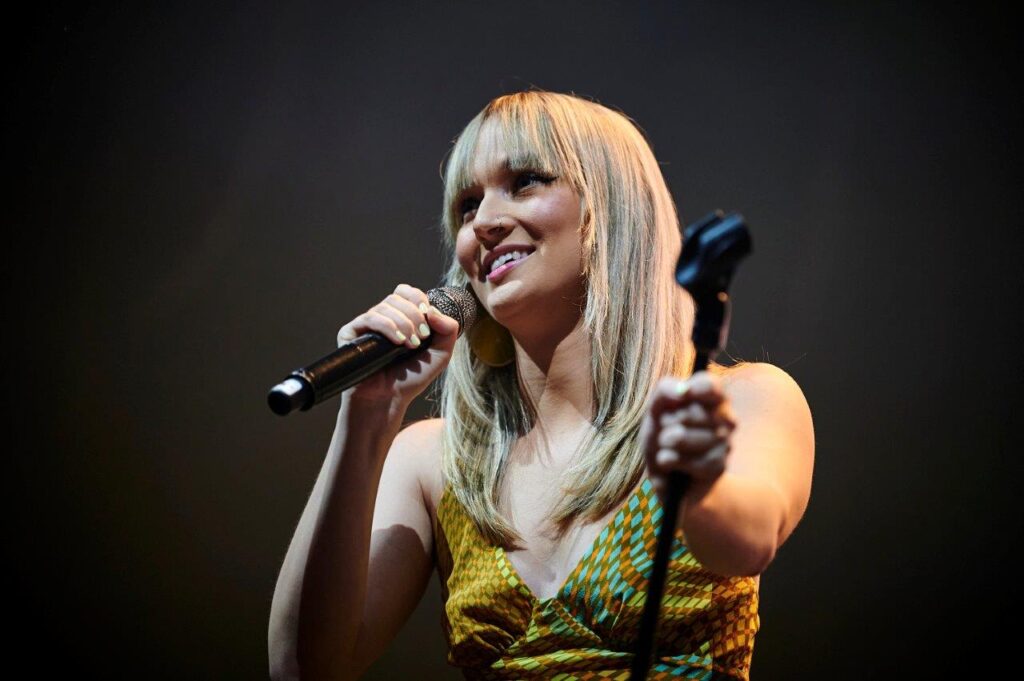 With the flick of a switch, and a seeming awareness of the oncoming Fender storm, Gretta slowly built the intensity of the night and launched into 'America Forever', a song she wrote in LA when she met a friend who changed her life. You could just feel in the delivery what this song and experience meant to her. In full flight on his kit and sampler unit, drummer Fisher pushed thru 'Heartbreak Baby' and 'Over Me', a song Ray dedicated to her love of creativity.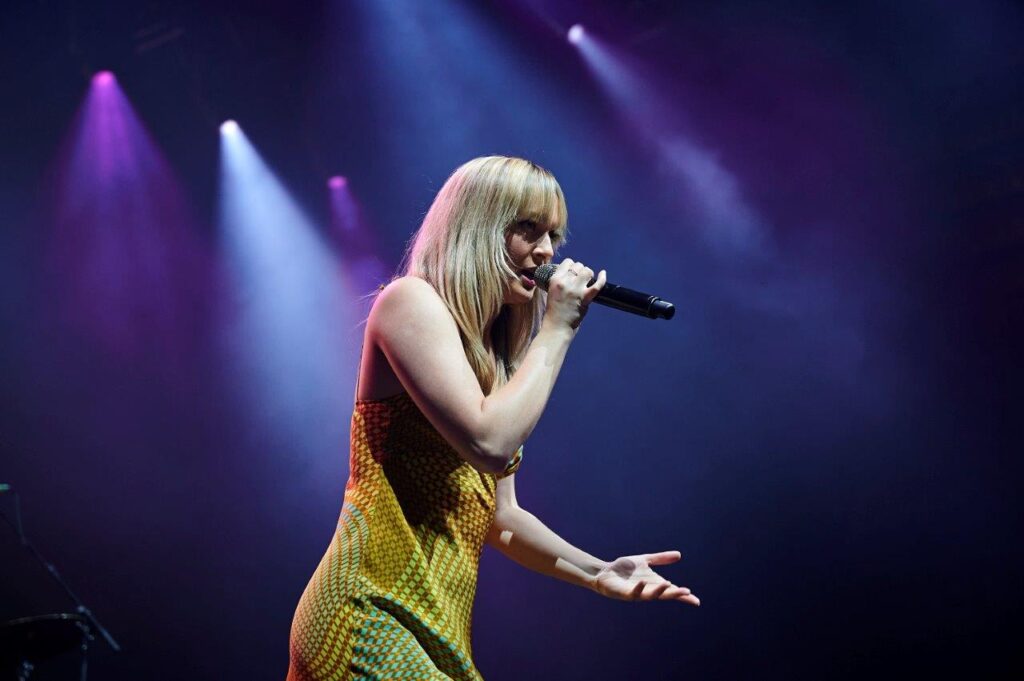 The by now enthralled crowd, were truly invested as Gretta pushed down on the throttle to 'Drive' thru the song that started it all for her back in 2016, as Triple J Unearthed winner. Singing and waving in motion, they lapped up every minute.  Announcing her upcoming tour in September, and thanking Sam Fender for the opportunity, Ray whipped up the intensity even further with an energy filled version of 'Love Me Right', before exiting stage to rapturous applause, and winning a whole lot of new fans in the process!! Nice job, and well done, Gretta!
In HBF Stadium, the vibe was building beautifully. There was a definite buzz, a comradery on full display, whether it was the chant of soccer songs, the waving of Newcastle banners or just the good natured banter and laughter filling the arena, the crowd were definitely ready for Sam Fender!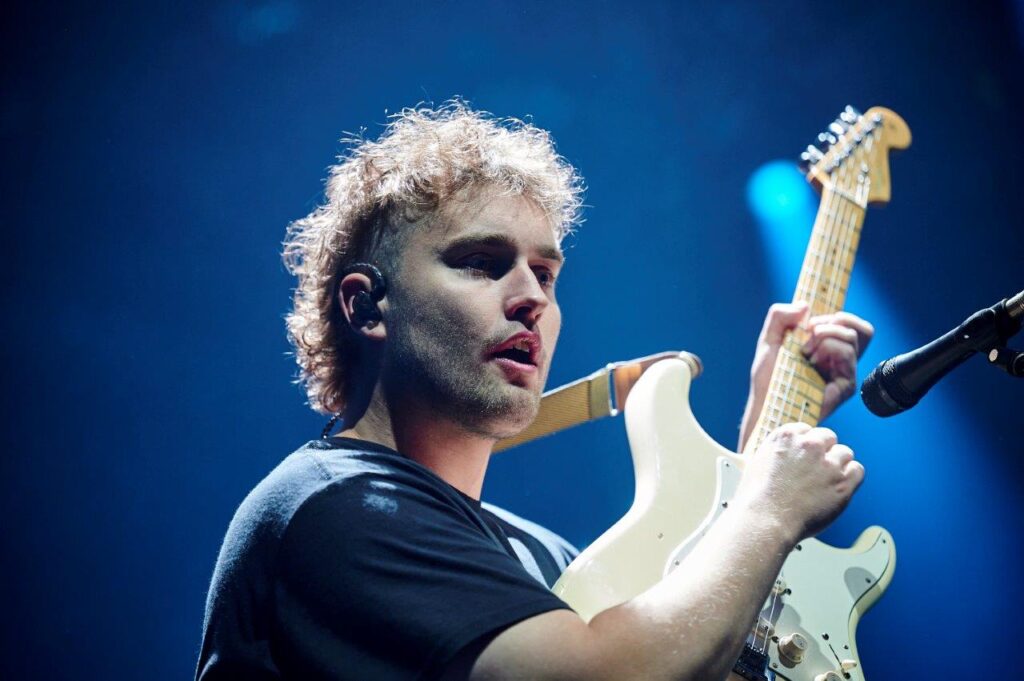 With an explosive burst of pounding drums and flashing lights, Fender and his band hit the stage, immersed in an energy and intensity ready to blow the roof off HBF Stadium! Head down, and fully invested, drummer, Drew Michael, rocked the room's foundations as the band fired into 'Will We Talk', a full on, foot to the floor banger that sent the crowd into a frenzy from the first beat. A classic song about the plight of the 'one night stand', there was no foreplay, we were straight into it and pumped for way more!
From here, it was into the upbeat, 'Getting Started', from Fender's latest album 'Seventeen Going Under'. His trademark jangling and melodic, chorus filled chords, rang out from the black and white striped Fender Jazzmaster, as sidekick guitarist, Dean Thompson, percussively strummed on acoustic, further embellishing the sound. The audience lapped it all up, singing along to every word. Fender even looked slightly perplexed at the song's end, when the crowd kept singing the chorus, unaccompanied by the band. "Perth, you fucking legends, that's the first time that's ever happened for that song", he said, before joining the crowd in an acapello like singalong.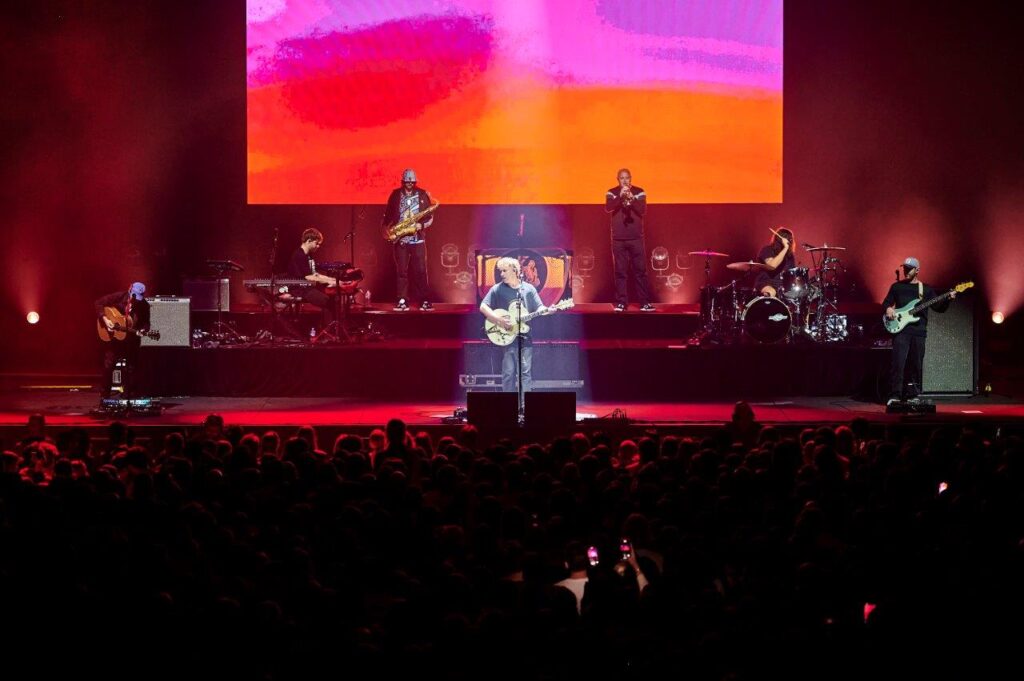 The cyclonic start to the show, dipped slightly as the band changed dynamic. Tunnel like, silhouetted visuals enhanced the emotion, as the eerily reverberated single guitar notes filled the stadium, and a heartfelt vocal delivery of 'Dead Boys', (a song about grief and loss through male suicide), followed.  The chilled, 'Mantra', was next, which Fender dedicated to the romantic couples who were here tonight and 'even those who had broken up but didn't wanna give the ticket away', lol. Beautifully delivered on his white Gretsch Falcon guitar, and amply enhanced musically on piano, sax and trumpet, you could feel this was the intended, 'calm before the storm'.
It was now on for young and old! "The Borders", a raw and personal lyric about Fender's youth and upbringing, hit deep into the soul of many who were here tonight, specifically the many ex pats who had similarly grown up in the heartlands of industrial towns in the UK. The intensity and driving rhythm rocked hard and we were ready to enter the eye of the typhoon!!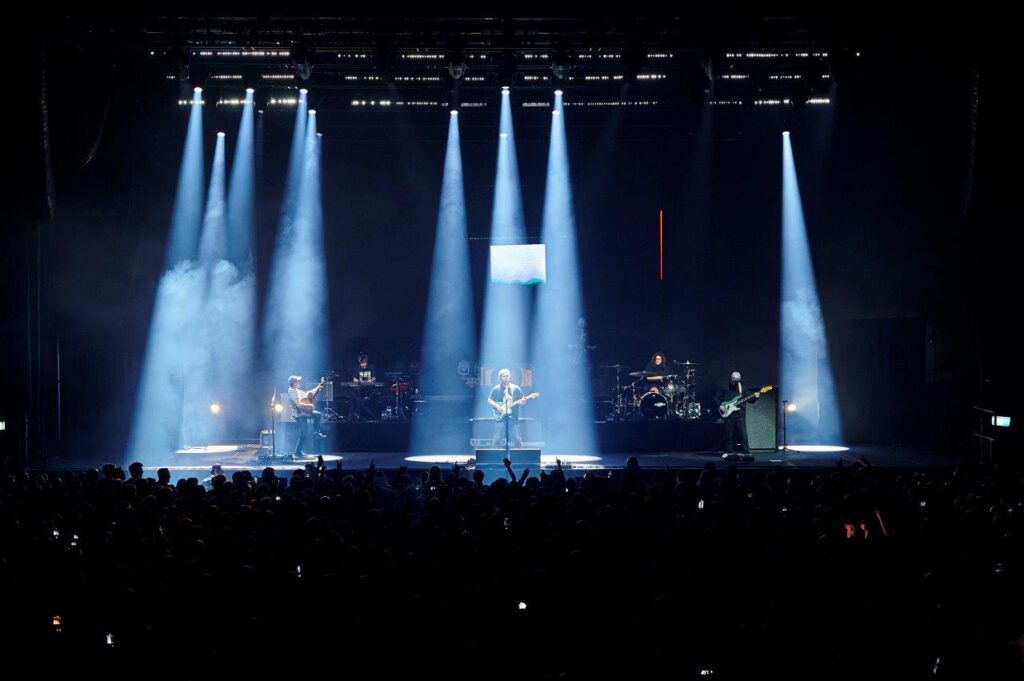 In a blaze of red light, strobe like visuals, pounding drums and relentless guitars, the band exploded into 'Spice' while a mosh pit formed right in front, out of control and erratic, at the centre of this Fender storm! It was clear we wouldn't be 'petering out and disappearing east', any time soon.
Sam Fender is engaging and genuine, with a unique ability to relate to his audience with honesty, whether it be in his song lyrics or just with his on stage banter and quips. With a quick reference to the pandemic, about 'going into Aldi, and seeing people who thought they were gonna die, and thinking you're gonna die yourself', the moshlike energy continued into 'Howdon Aldi Death Queue'.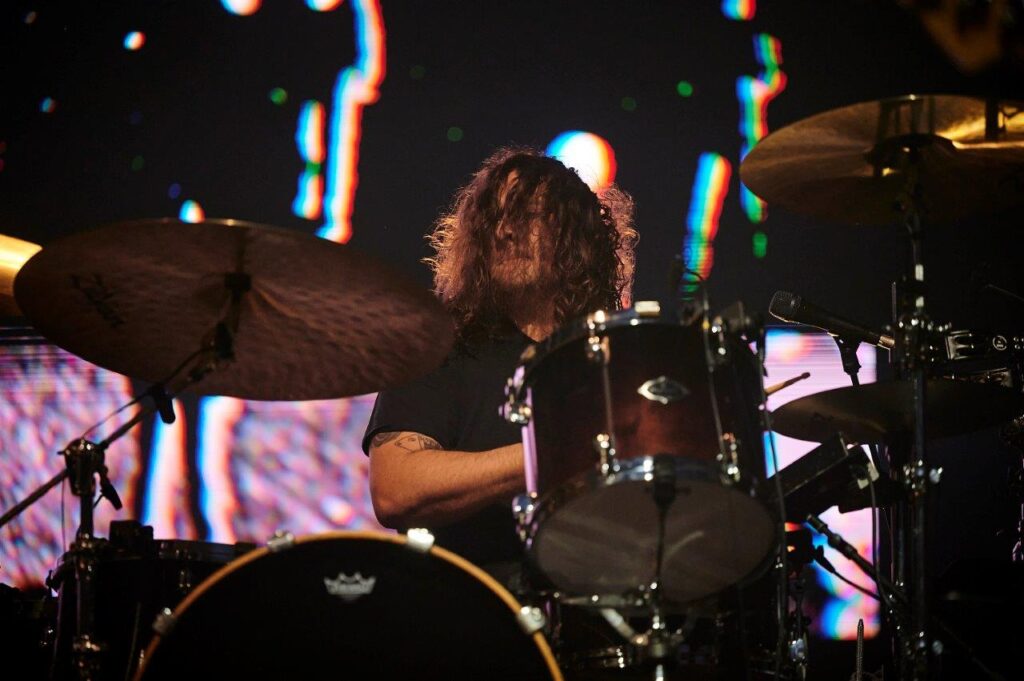 'Get You Down', an absolute corker of a song from 'Seventeen Goin Under', followed, as keyboard player, Joe Atkinson, encouraged handclapping and even more audience participation to the driving four on the floor kick drum, supported by the Clarence Clemons like raspy underlying sax notes of Johnny 'Blue Hat' Davis. The hugely invested fans were now up on shoulders, waving Newcastle banners and having the time of their lives.
Then it was on to a personal fav of mine, 'Spit of You'. I'm not sure how Sam Fender manages to conjure up these hauntingly beautiful, melodic guitar chords and root bass notes to accompany such deeply personal and heartfelt lyrics, but emotionally for a song like this one, (about the deep love and, at times frustration, he has for his Geordie dad), it just works…… , yeah, it works…..really well. What a highlight, the family portrait visuals, the crowd singing every word. "I can talk to anyone, I can't talk to you" Absolutely epic!! Thanks Sam.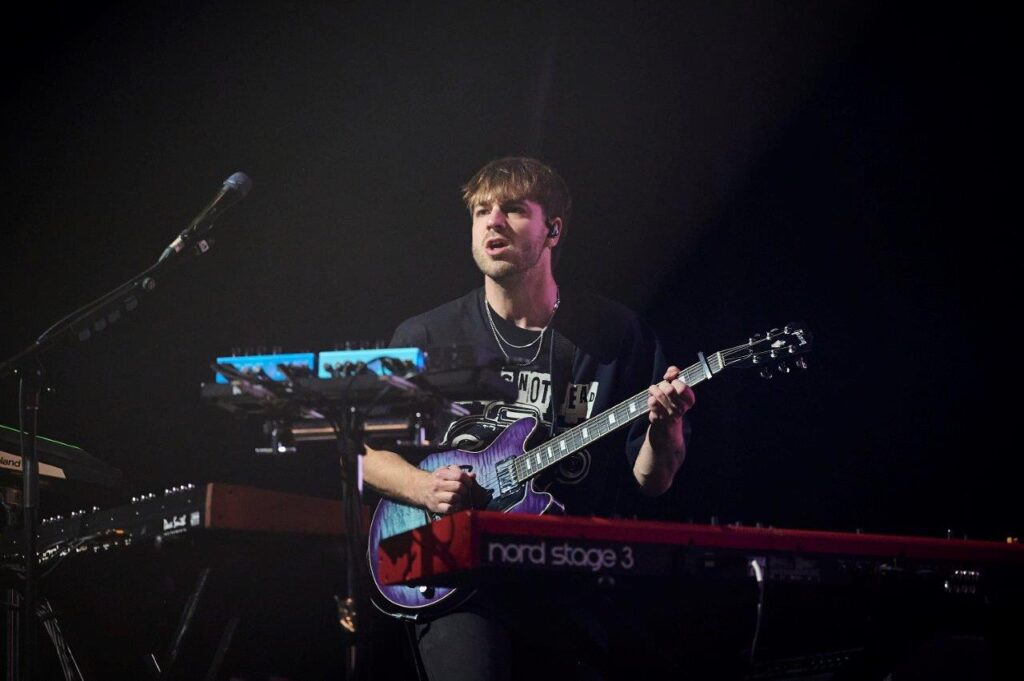 A brief shout out to any Irish in the audience, led the band into their well executed cover of Thin Lizzy's "The Boys Are Back In Town", and as the stage filled itself in flooded green light, some relived memories of the Lynott era, and twin lead guitar skills of Gorham and Robertson, through this perfectly replicated version by Fender and his two young guitarist cohorts.
To genuinely touch and bring an audience together as one, is a skill few possess, but Fender has a way of making everyone feel together and as one. As he started out into the anthemic 'Alright', he encouraged the crowd to practice singing the chorus, which they did willingly…. and as loudly as if they were standing on the terraces of St. James Park cheering on Newcastle United. Deep and with a sense of inter-generational change and postive world reform, the rousing words 'We're alright, we're alright, it's time to put the world to rights'  rang out, spine tinglingly wonderful when witnessed being sung by thousands.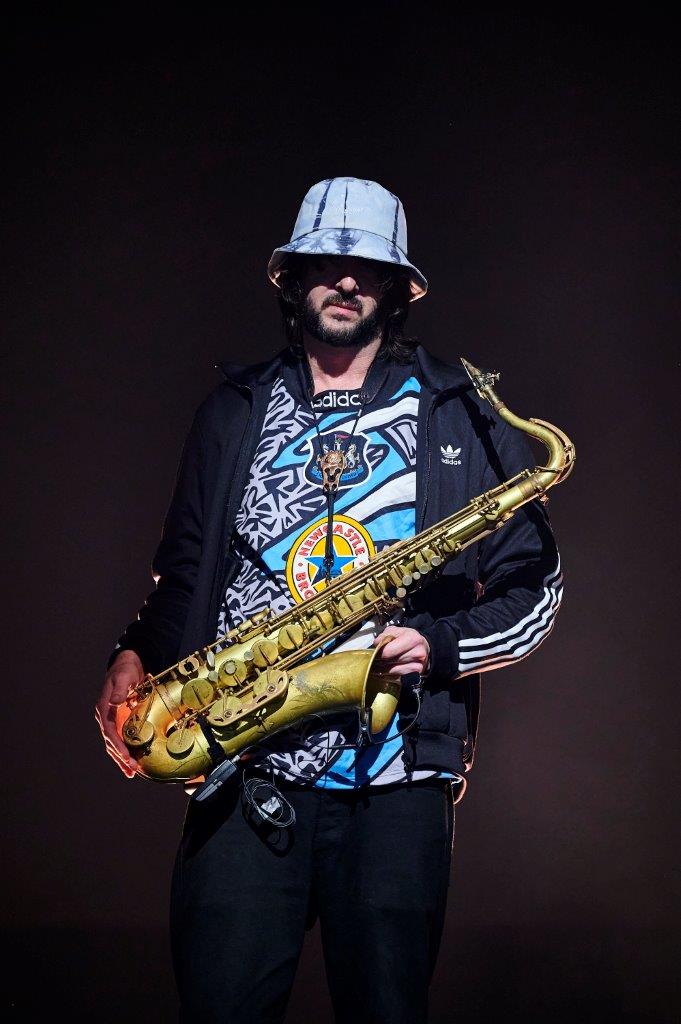 A single spotlight shone on a Newcastle Utd banner draped piano, mounted high on centre stage, as Fender sat alone and played the opening chords to 'The Dying Light'. He modestly professed to being 'not much of a piano player', but the crowd begged to differ. They loved every moment, swaying in unison, with mobile phone torches illuminating the whole arena as the band took over to rapturous applause. With a visual backdrop of falling spheres, the band left the stage as the punters yelled for more!
Making fun of the idea of playing 'encores', Fender re-entered the stage alone with his electric blue Fender Jazzmaster and started into a stripped back cover of Bruce Springsteen's 'Dancing in the Dark' before leading into the 'Johnny Cash' like, opening guitar and cross-stick drums feel, of 'Wild Grey Ocean'.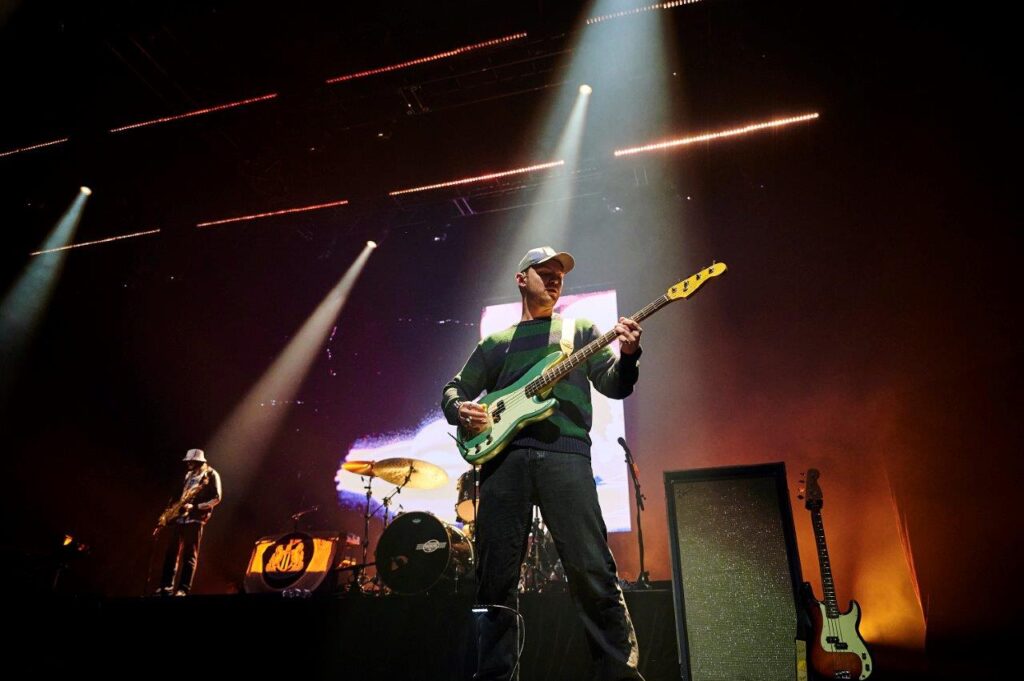 The whirlwind of emotion and raw energy that Sam Fender and his awesome 7-piece band had brought to Perth, was about to further intensify though, and a clearly appreciative and thankful arena was primed for a couple of really BIG hits before they blew east for an appearance at 'Splendour In The Grass'.
The pressure guage hit epic proportions as Sam and the boys launched into 'Seventeen Going Under'. Fans were on shoulders, shirts were off and the party was reaching it's climatic conclusion!
The crack of Drew Michael's perfectly tuned snared drum whipped the crowd into an absolute frenzy as they sang along to every word, some of which were boldly displayed in red capitals on screen. The whole band were completely invested, drums pounded, bass guitar rumbled, guitars thrashed, keys hammered, and sax and trumpet blew harmoniously in full swing, as Sam and the crowd sang loudly 'Woah oh oh oh'. But still keys/guitar player, Joe Atkinson, encouraged the crowd to give more!! Like a world class fitness coach he demanded every single drop of sweat until the very last note of the evening was played!!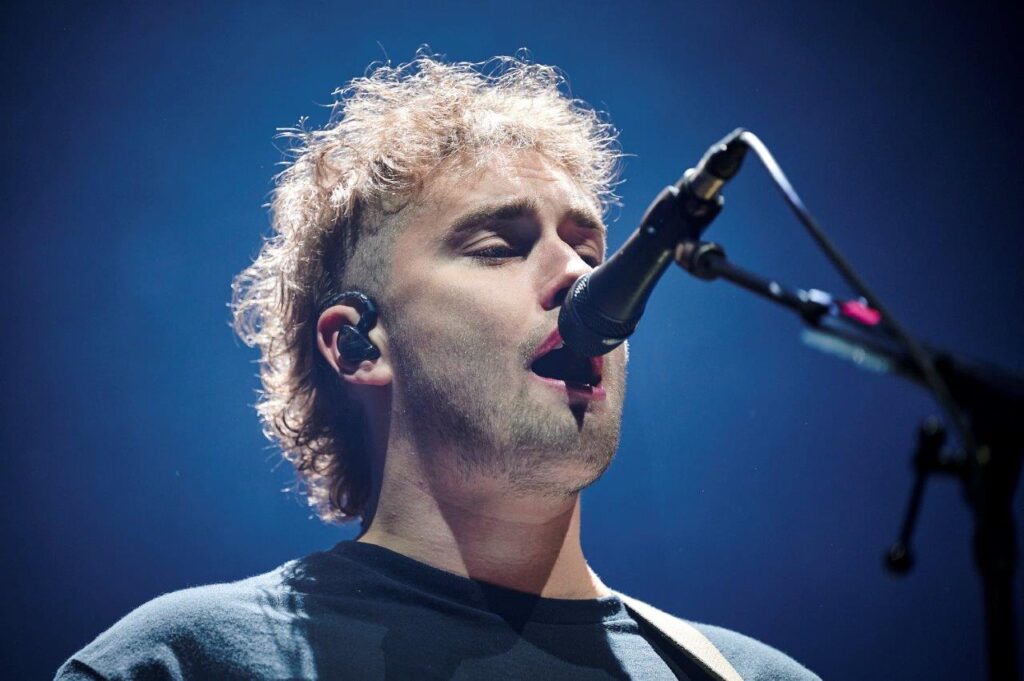 We were almost there…. And then one last absolutely massive anthem ensued. 'Hypersonic Missiles' rained down on us like a cataclysmic meteor storm filled with musical weaponry. It was intense, it was targeted and it was bloody epic!!! Streaks of fluorescent light emitted from the huge visual screen and in one final resounding crescendo of band and audience energy and emotion, it was over.
Thank you for including Perth in your Australian visit Sam, we are truly, truly grateful.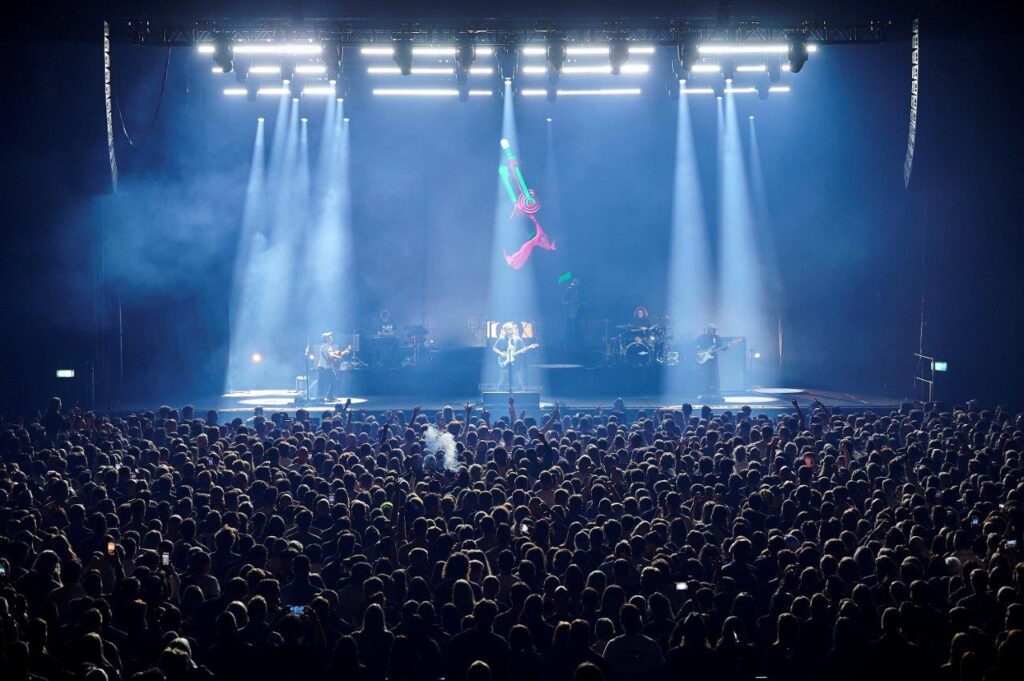 Review by Craig Ballantyne. With thanks to Scrabble PR for the media access.
GALLERY – Photos by SoCo Studios
Gretta Ray
Sam Fender