There's nothing quite like a Rock and Roll Festival to get the blood pumping and when they are done right they are a thing of wonder. Silverback Touring has hit the nail on the head with this one! Taking the Glam of the late 80's Sunset Strip as a starting point and mixing it up with some newer bands with plenty of firepower and their own fanbase is a touch of genius that has paid off in spades. It might be tight bringing in six Interntional acts to play four Cities in four days but by date three today at The Bridgeway in Adelaide it's all running like clockwork.
As venues go The Bridgeway is a nice big room with a great sound, and as Tuff's Stevie Rachelle points out later in the day "This is Angry Anderson's mike stand" it's a nice touch that gives a nod to the Aussie Rock of bands like Rose Tattoo and The Angels that clearly influenced some of the Strip in the 80's. The Bridgeway is just twenty minutes by car out of Adelaide it's a venue with a long history and perfect for an event like this. And when doors opened after the customary crush at the merch stand  it's on and the first band is on stage!

Crosson are one of those bands that can polarize a crowd: larger than life and with a stadium rock attitude and stadium sized theatrics on a small stage in a small venue they somehow make it all work with a well-rehearsed show with plenty of pizzaz! With it being a Friday people are obviously still heading in from work and it's a great measure of any act to put on a show like that so early in the day. If you've only listened to the records, live is how you want to see these guys as it takes on a whole new dimension.

Sister's Doll is a band I used to see play in Country W.A. and Perth back in the day long before they relocated to Melbourne and from day one they've always had the winning attitude of playing hard, rehearsing everything and putting on a great show. Definitely a band that takes their influences from Kiss and the Sunset Strip they're perfect for a Fest like this and like Crosson play every date of the four City extravaganza.
Of course Sister's Doll have their own local following and despite only releasing two records in the last ten years the great news is that new tracks like 'Black Mirror' sound like the best they've ever done and with a new album on the way it's looking good for local fans of Kiss and Crue.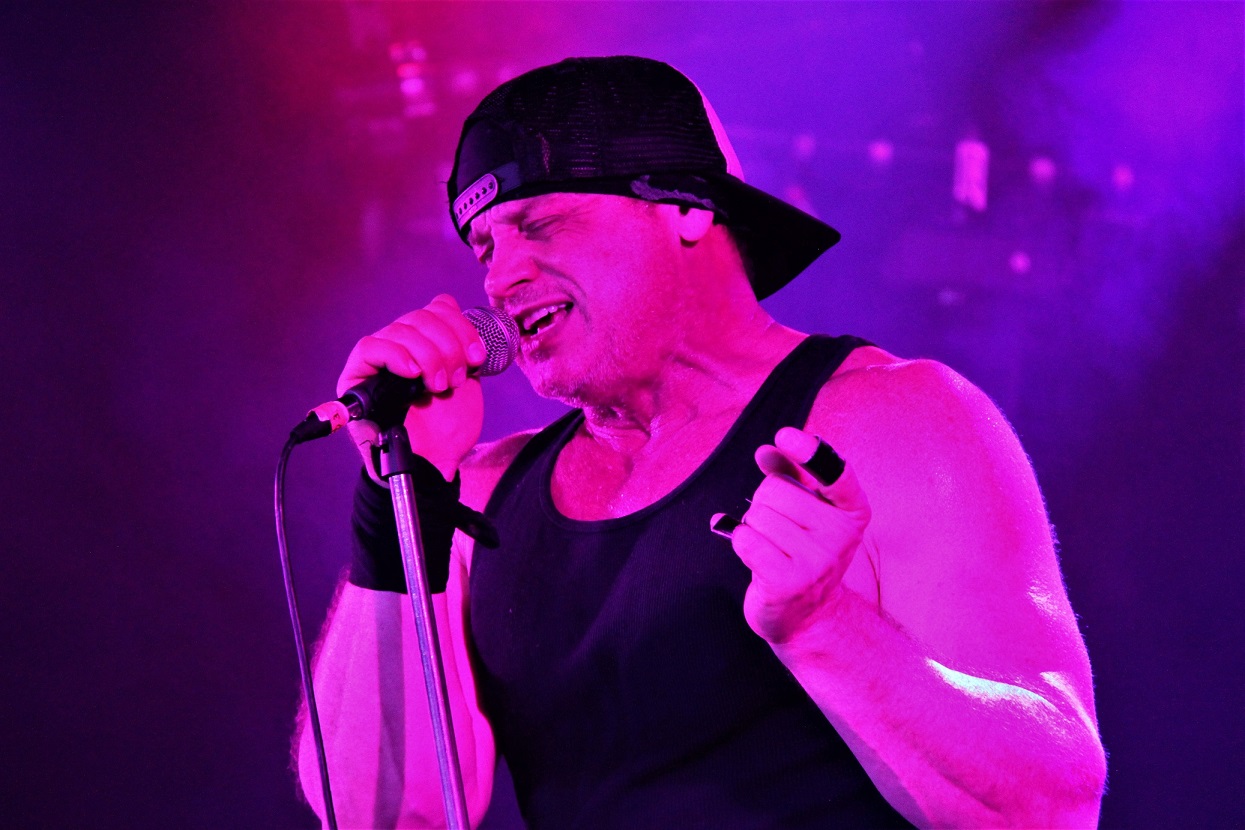 If there's anyone that has done more to keep 80's Glam and Hair Metal alive over the years than Stevie Rachelle of Tuff I'd love to meet them. Tuff is strangely the only band on the bill I've never managed to catch live before either back in the day or travelling to the U.S. to Festivals like Rock in America and Rocklahoma back in the late 2000's.
Tuff of course are one of those bands that epitomize the Glam Scene on the Sunset Strip and contemporaries of the Glammier bands like Poison, but they always had a harder edge and on stage they are driven by the sheer looming presence of Todd Chaisson. Stevie Rachelle, who fires up the crowd between songs has kept his pipes in good order too as they pull out all the stops to deliver the killer 'Good Guys Wear Black', 'Ruck A Pit Bridge' and of course the closer 'American Hair Band'.
Pretty Boy Floyd  has that aura about them from the moment they take the stage, and tonight they play tracks from their classic debut album 'Leather Boyz With Electric Toyz'. With the songs to back them up and Steve Summers hilarious onstage banter, it's a storming set and one I enjoyed so much more than the last time I saw them in Vegas many moons ago which featured a completely different set of players except for the main man. The band is rearing to go and songs like '48 Hours' and the classic 'Rock and Roll (Is Gonna Set The Night On Fire)' – one of my favourite songs of the era – just shine in their sleazy perfection. 
This is the sort of good time Rock and Roll that is the soundtrack for the endless 80's party and hugely enjoyed by all in attendance.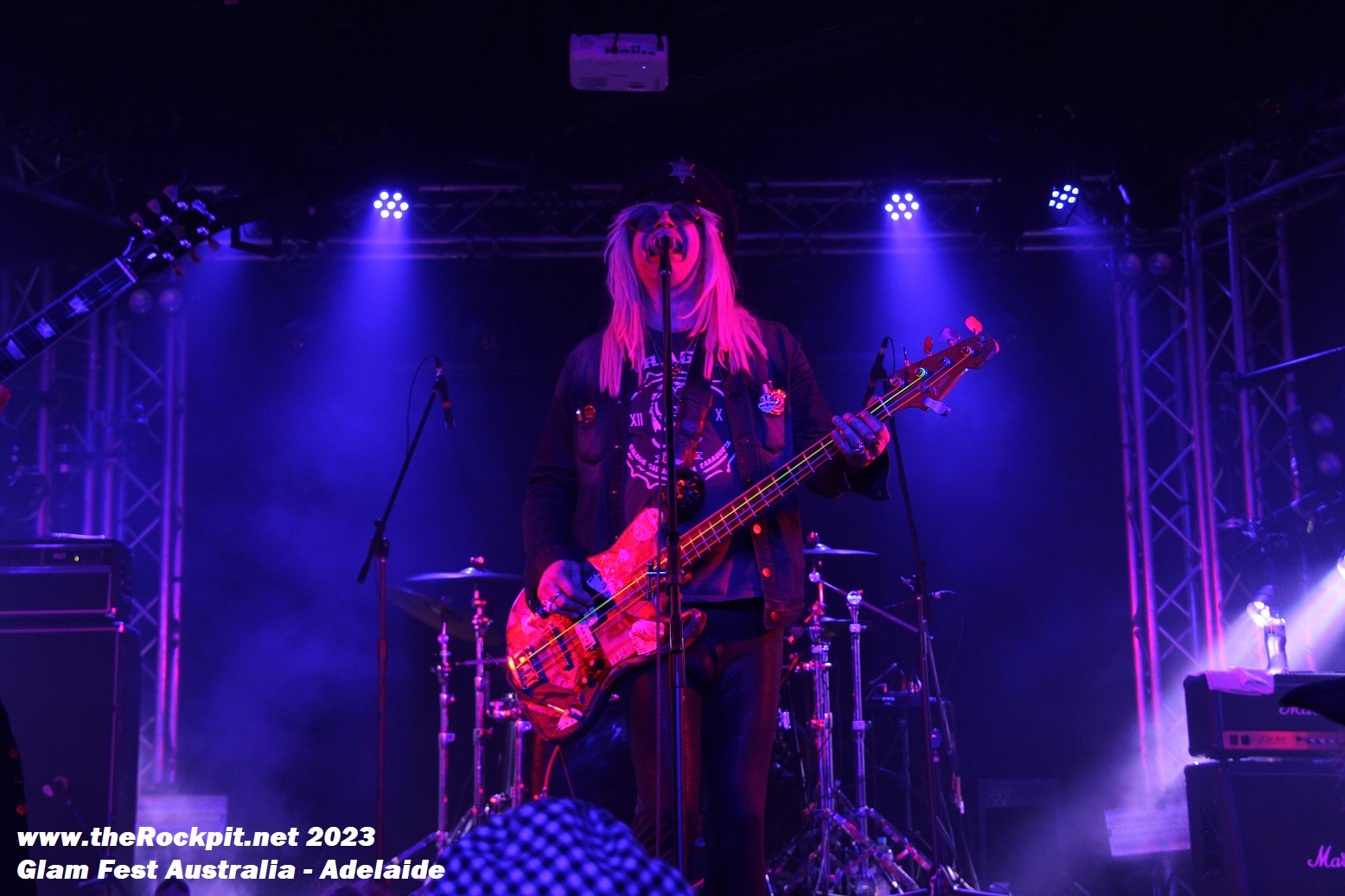 Enuff Z'Nuff need no introduction, and whilst they hailed from Chicago rather than Los Angeles they of course started out with an image that was all hair and sparkle. One of the last bands to leave Australia before the borders closed it's great to see them back with a set that is full of some of the greatest songs of the era. Donnie Vie may be gone but the music is kept alive by Rockpit regular Chip Z'Nuff who takes the crowd on a 'Magical Mystery Tour' with songs from last year's Beatles Tribute record 'Hard Rock Nite'.
In a set studded with the perfect Pop of songs like 'Baby Loves You' and tracks from their gloriously over the top debut like 'New Thing' and 'Fly High Michelle' you can feel the love in the room for one of the hardest working bands in the world.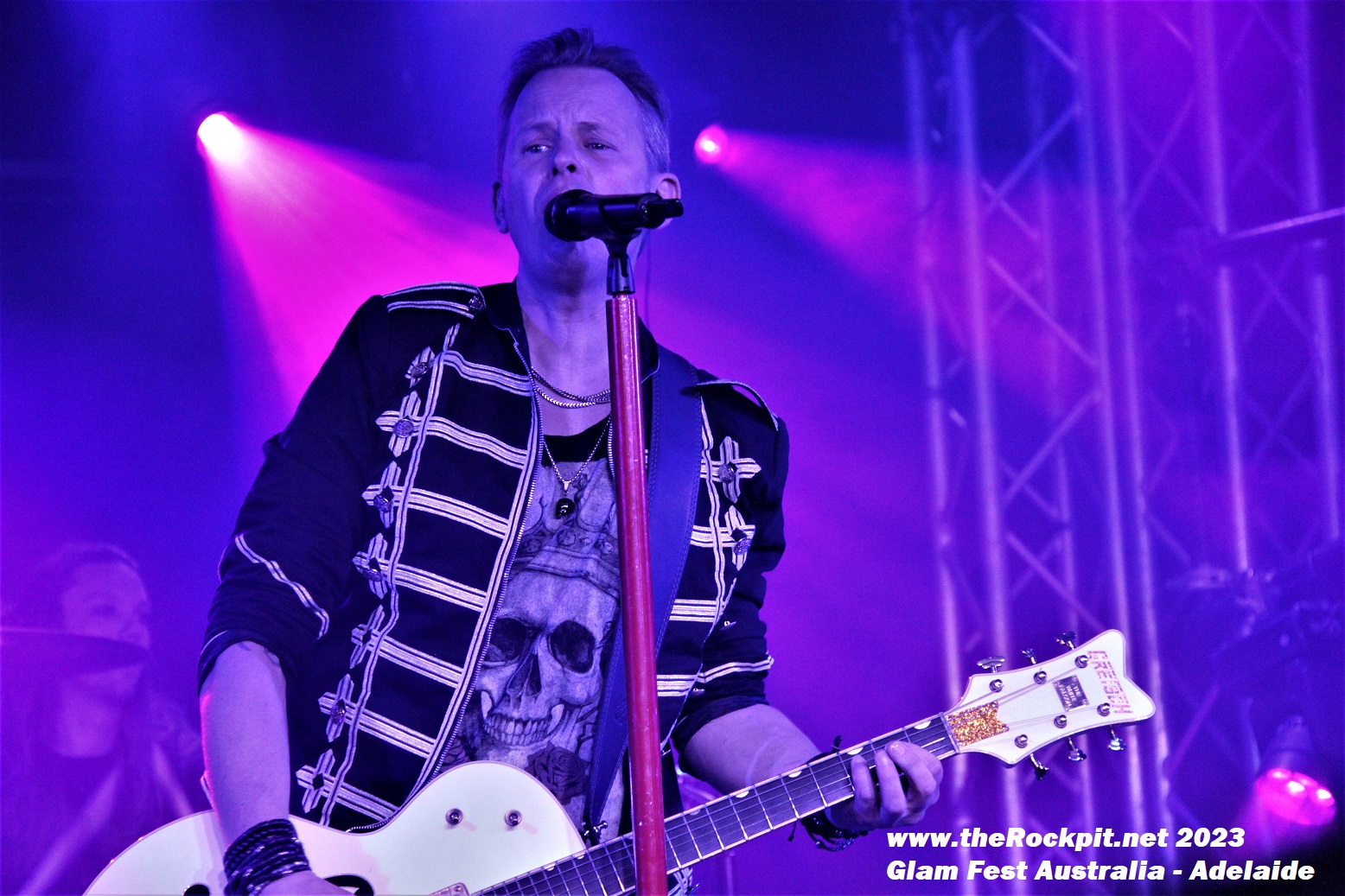 Silverback has already brought us H.E.A.T. to Australia, and now another of the new wave of Scandanavian Rock Bands that take their cue from the Hard Rock of the late 80's Eclipse take the stage. I caught Eclipse on their first visit to these shores some years ago and having been reviewing their music and regularly chatting to Erik over the years it was great to finally see them on stage. They were amazing and tonight they are even more charged with energy.
From the first note to the last Eclipse had the room rocking and the crowd in the palm of their hand, even those unfamiliar with the band couldn't take their eyes off the stage. If this is the future of Hard Rock then we are in very safe hands indeed. 'Black Rain' might have been a real highlight for me along with 'Downfall of Eden' but seriously every song tonight was pure Rock and Roll! If you ever get the chance to see these guys take it because amongst a host of great performances tonight Erik and Eclipse just edged it.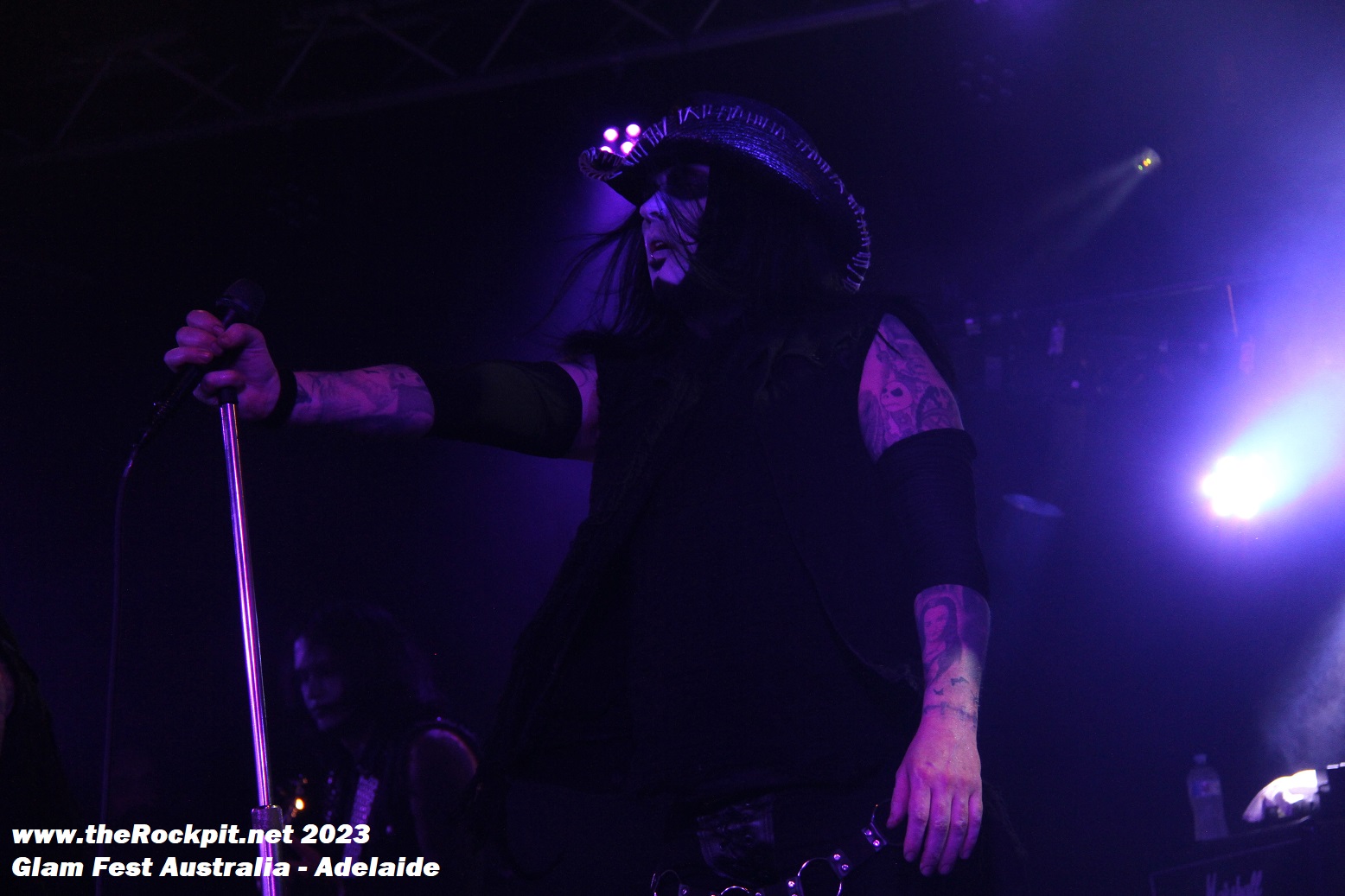 I caught Wednesday 13 for the first time back in 2005 when they visited Australia to promote the first record and then again when they played Soundwave back in 2012 (so only a decade between shows!) and they always put on a killer show (pun intended). Tonight the Horror Sleaze Rock of Wednesday draws a huge crowd and if you love the mash of Horror Movies and Rock and Roll this will be heaven or maybe hell for you. This is seriously good stuff and the feedback from a bouncing crowd, still full of energy after six nonstop hours of Rock and Rolling, is incredible.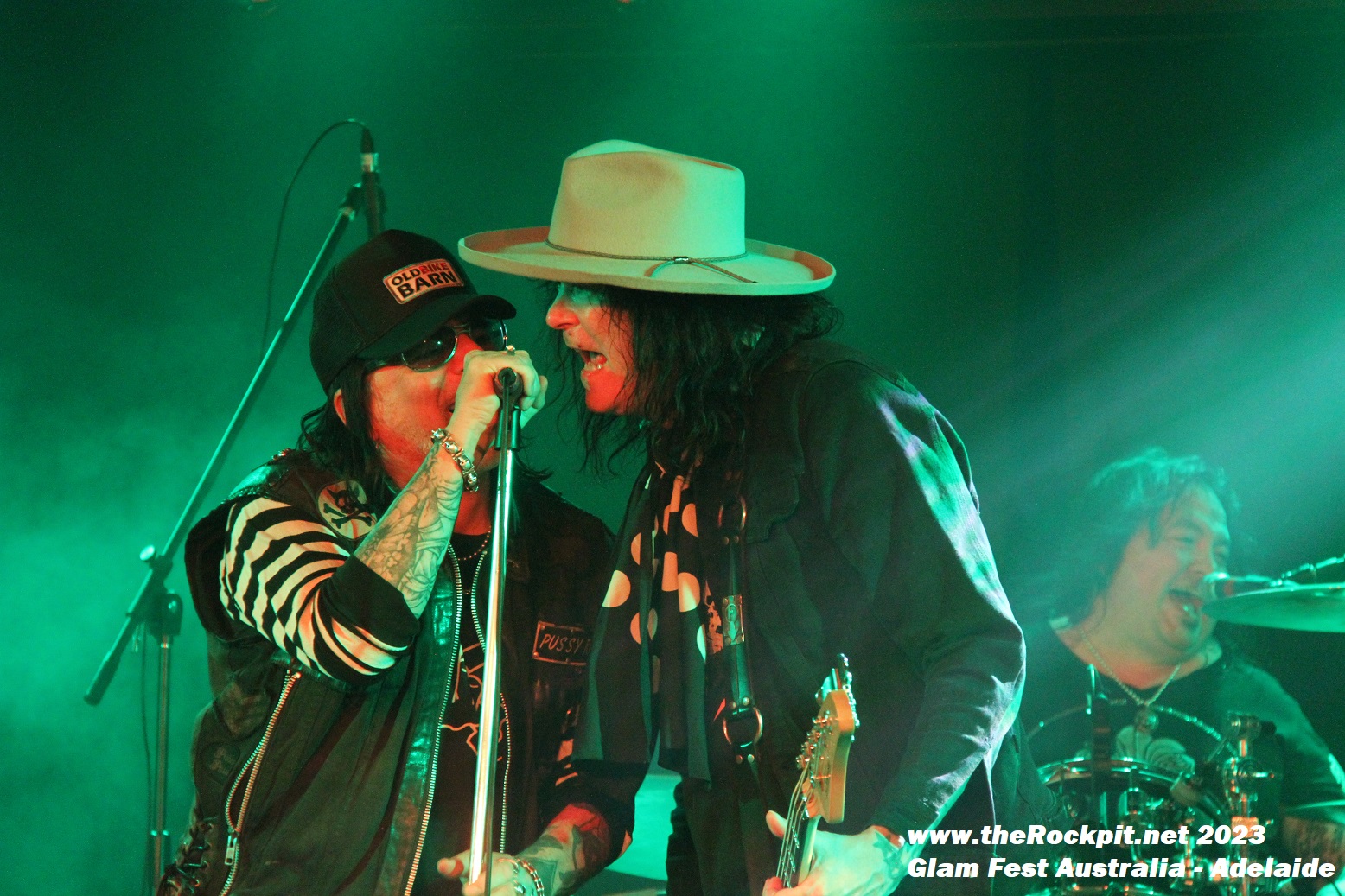 Faster Pussycat closes the inaugural Glam Fest with a bullet! If you want to see a band that was at the glittery epicenter of the 80's Glam scene and who produced some of the finest Sleazy Rock of the era then this is the band to close a show like this! A new sober Taime looks trim and ready to go and the anthems keep dropping. Tonight they are firing on all cylinders too with the cool as hell and ever dependable rhythm section of Chad Stewart and Danny Nordahl leading the charge, and two new and young gun guitarists in Sam Bam Koltun and Sydney's own Ronnie Simmons bringing the fire.
In my many years of watching Faster Pussycat I've rarely seen them this good. There's a new life to the band tonight and new material to play too in 'NOLA'. Seriously you need to check these guys out – this is music to party too, music to sing along with and proof that Rock and Roll can never die. What a way to close the night!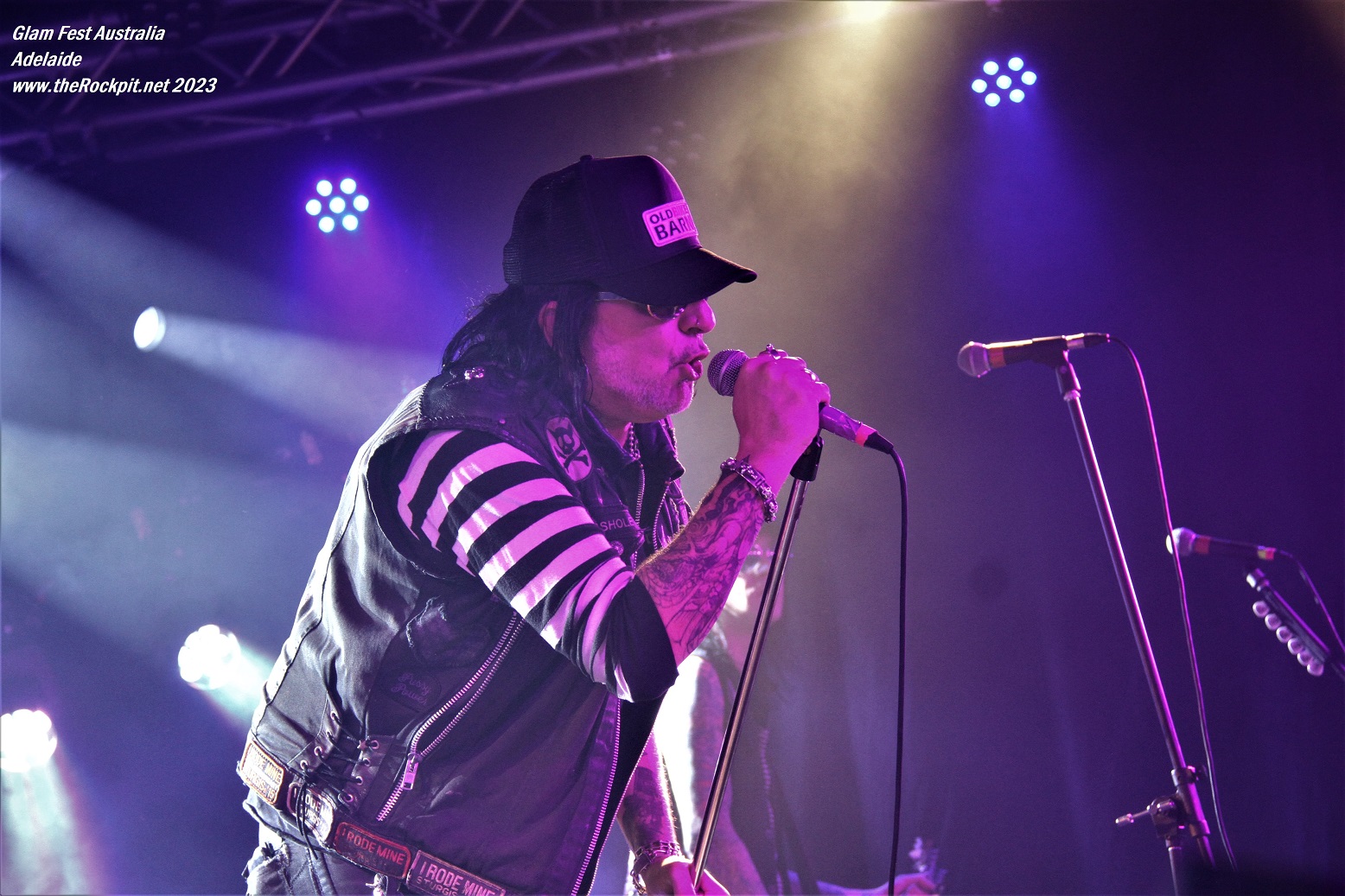 Glam Fest Australia has one more night to go so if there is any way you can get to The Factory Theatre in Sydney you need to be there. Logistically getting this many bands between four cities in four days to deliver eight hours of music must have been exhausting but all credit to Silverback they have pulled off a blinder. This is how you do a Festival properly and one of the best shows you'll see all year!
Thanks to Silverback Touring and all of the bands that made this happen.