This is one of those concerts that I've been anticipating for a while because it's very much a throwback to concerts from when I was a kid. What I'm trying to say by that is that when I was a kid, they would put bills together of different types of bands that weren't always the exact same genre. It was always exciting to me because it was a great way to expose yourself to music that you had not heard before. I've always thought I would much rather have genre crossing artists together on a bill then a crappy startup band that's just in the same type of musical category. I was really curious to see how people would react to this. I was so blown away and pleasantly surprised by what took place.
For starters, when the opening act Cory Marks who is relatively new hit the stage, almost everybody was already in their seat. Cory and his band put on an absolutely fantastic show. I couldn't tell you one single song that they did but I was really impressed with his originals. He is very much in the genre of new country with a little bit of southern rock thrown in for good measure. It would be what I would consider the heavier end of the newest wave of country music. It's very far removed from the sound of Five Finger Death Punch but yet it worked to have him on the tour. Check him out, I thought he was great.
Second on the bill was Brantley Gilbert. I had seen him before, but it's been many years. I knew what to expect and that I knew it would be a good show. But again, before going I thought how does a country star mix with a heavy metal band? The answer to that question is incredible. He was aware of the difference in the audiences and made note of that several times throughout his performance. At one point he mentioned that heavy metal crowds don't fight which he really liked. He said country crowds there's always a couple of rednecks that like to get drunk and have a fight. He vowed to the crowd though that before the tour was over, he would get into the mosh pit.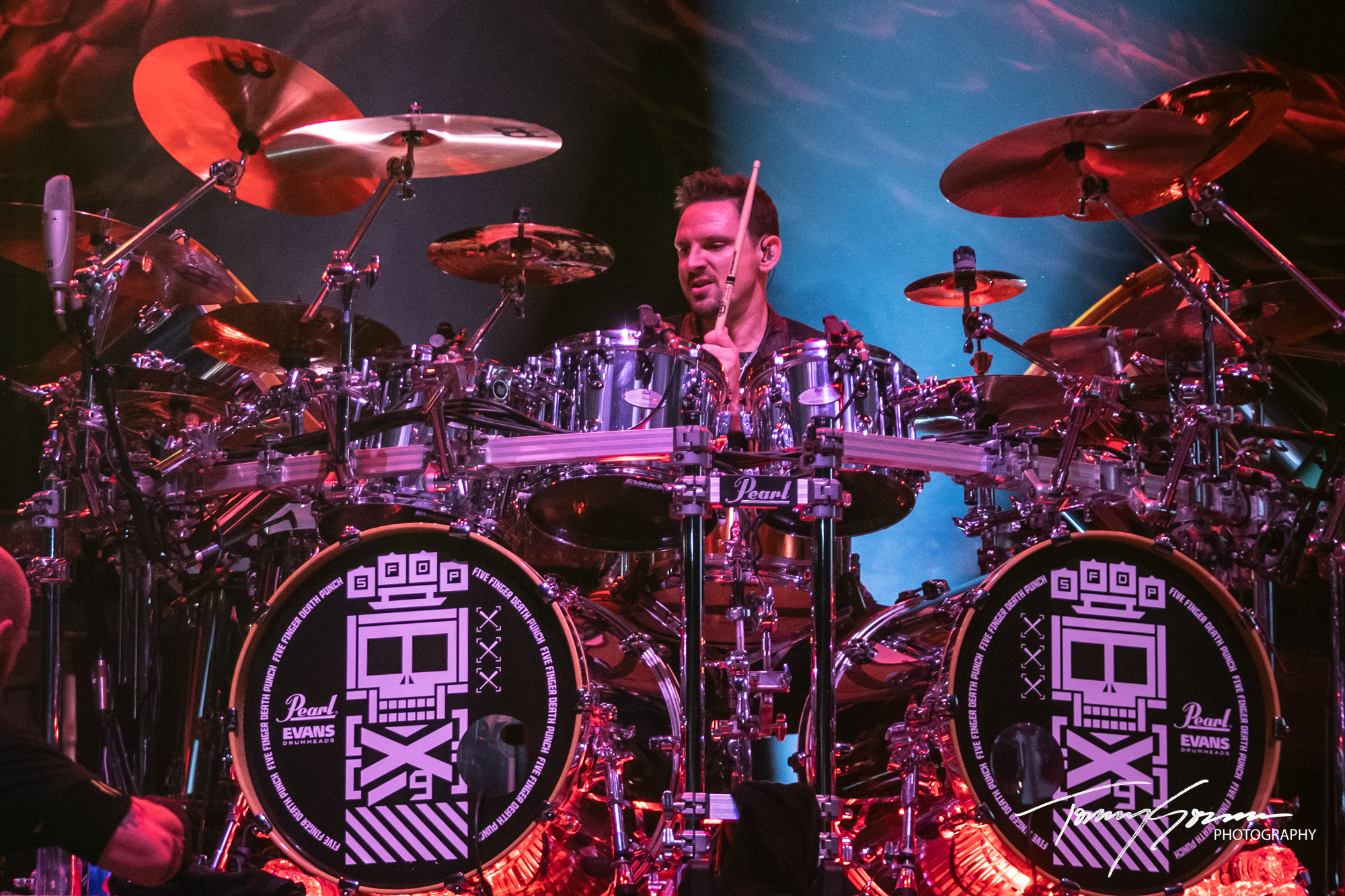 He's a solid country artist with a wonderful body of work. He worked his way through a 75-minute set with his extremely talented band. They did bits and pieces of an Eagles song as well as Pantera. It was very smart of him to show the audience that he understood who he was playing in front of. To my amazement though, this crowd of people we're singing along with his songs. That tells me that he is crossing genres and appealing to more than just the country crowd. There were a lot of T-shirts and fans of his and the audience. My next thought is will they leave after he's done. The answer to that was no, everybody seemed to stay to watch the headliner 5 Finger Death Punch. When the show was over and we were leaving, I didn't hear one person complain about this line up. All I heard were people cheering, smiling, and leaving feeling good. That's what a live concert should be all about.
Another thing I want to touch on regarding all three artists on the bill. Their love of America, support for our veterans and their patriotism bled through the entire show. Call me old if you will but I still think that that matters. Especially now with the way our country has been divided. the United States needs patriots especially at a time like this. It's wonderful to go to a show and see that type of pride. For any of you reading this review that don't live in the United States, I hope you feel just as much pride and patriotism for wherever you are from.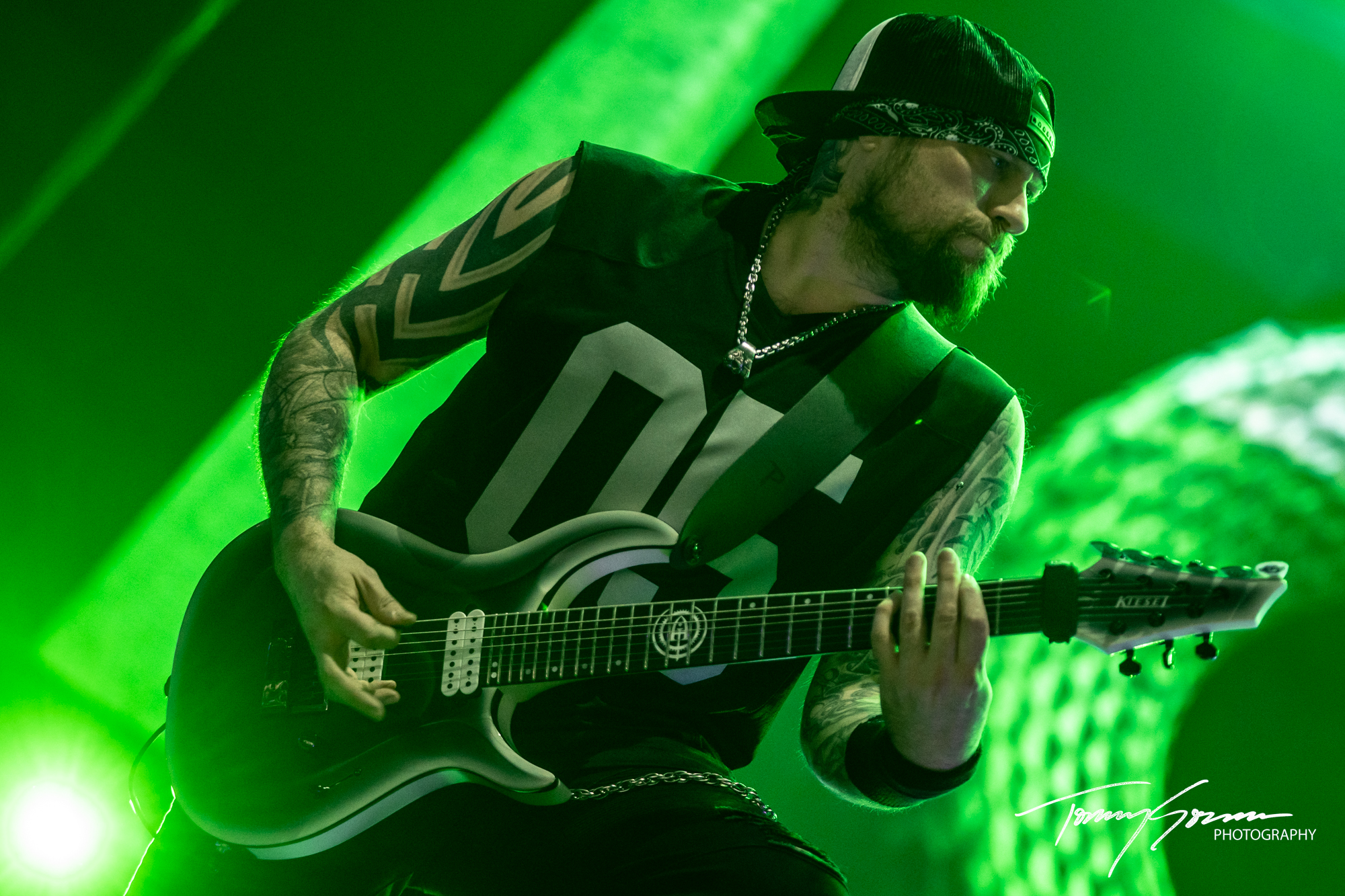 The headliners 5 Finger Death Punch did not disappoint. But then again, they never do. I must mention though that they do confuse me at times period I can't tell you how many times I thought I had heard that they were retiring or breaking up. Yet they continue to come out on the road and tour and release new music. I think they're very important band that should stick around. They've got an incredibly loyal fan base and I really think they write great music.
Ivan Moody the lead singer seems very passionate about what he does. I know members have come and gone over the years, but this has to be one of the strongest lineups I've ever seen them with. He did a solo vocal performance of part of the Bob Seger song "turn the page". And the next thing you know they break out "Burn Motherfucker Burn". they have a great stage presence complete with pyro, huge screen, props and amazing lighting. About the second or third song in but good size mosh pit started to form in the middle of the general admission pit area. That always adds to the chaos of the moment.
I don't feel the need to go into all the songs that they did. You can certainly look it up on setlist FM if you're curious. I just walked away thinking what an amazing band they are. I put them in the same category as Slipknot in the respect that they have such incredibly dedicated fans that it makes the concert experience even better because of the energy. I hope personally they stay around for many years to come and continue to tour. If they were to retire, I would consider it a loss to rock and roll. It looks as though as writing this they will be on tour with the huge Metallica show starting next year. My guess is that you'll have plenty of time to catch them before they do ultimately make a decision.