It may be a Tuesday night in Sheffield, but the Greystones is packed tonight for Dan Patlansky, it's going to be hot one with his steaming blues.
But before that we have Arielle who is accompanied by her older brother Devon on bass. It appears everyone has got in early to catch her set and what a great set it was. Opening up with 'Voices in my Head' from her 2018 'Mind Lion' EP before playing 'Somewhere Slow' the first of 4 songs from her forthcoming studio album. 'Still a Man' follows from her current album 'Analog Girl in a Digital World' and what a catchy foot stomping tune it is indeed with some tasty blues licks thrown in. Arielle then explained that she was currently looking for a place to call home and that Sheffield was a cute place to live. I am sure that she would be welcomed with open arms and that the Greystones would be a great local for her. 'I'd rather be in England' again from 'Analog Girl' is much appreciated. 'Weakness for You' another new song showcases Arielle's beautiful, sweet vocal and she enlists the help from someone in the audience with his rhythmic triangle accompaniment. '73' another new song is about her 1973 VW Camper Van. Arielle says it may not get her anywhere very fast, but you ride in style. It's a great catchy song that gets you singing along. 'The Way You Look at Me' finishes the set, over far too quick, short and sweet. Arielle is a talented singer songwriter with guitar prowess and has a great rapport with her audience. I will definitely be catching her again when she rolls into a town near to me in her VW Camper Van.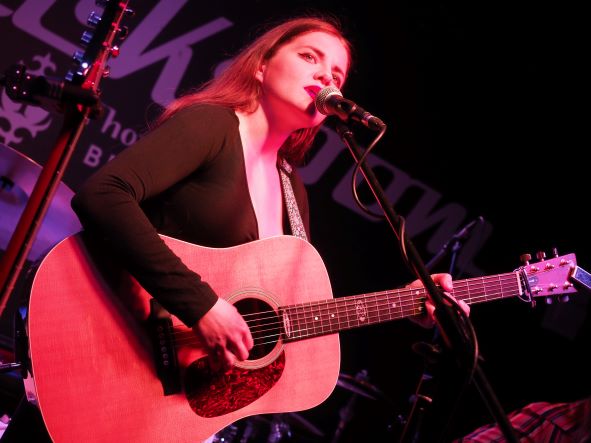 Dan Patlansky hits the stage with his unreleased song 'Lift Up' and what can be said about him, he is the real deal. You get what you paid for – Hot sweaty blues dripping with passion. Most of the set tonight comes from his new album "Shelter of Bones" and what an album it is.
'Soul Parasite' & 'Snake Oil City' are played with the feeling and excitement we expect from Dan. Then we have the excellent 'Lost' which Dan explained was about the time his wife Gisela fell ill and the Doctors thought the worst, luckily everything turned out ok in the end and you can certainly feel the turmoil he was feeling at the time in the song. 'Stop The Messing' from the 2016 'Introvertigo' album was next before we get treated to a fabulous version of the new single 'Bad Soul.' Quickly into 'Heart of Soul' from his second album 'True Blues' before we got the Blues cliche tale, of selling your soul to the devil in 'Hounds Loose.'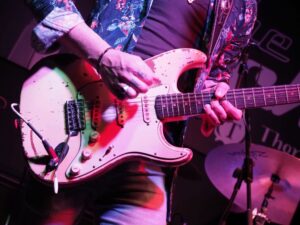 Dan then explained about the song 'Big Things Going Down' from 'Move My Soul' album, he had kind of forgot about until he was approached by a film maker who wanted to make a video to accompany the song, he went onto explain that when he watched it for the first time he was somewhat unimpressed, but because he appreciated the effort that had gone into making it, he thought what the heck and said ok. That video currently has 3.3 million views, so I guess he made the right call. The song is immense, and we were treated to an unbelievable version of it. Possibly a highlight of the night, but when the songs and performance is this good it's hard to pinpoint one.
'Backbite' from the 'Dear Silence Thieves' album is followed by a Stevie Ray Vaughan medley of ''Scuttle Buttin / Say What' which was awesome. Back to the latest album again for the song 'I'll Keep Trying' about his personal flaws and the will to improve himself. Before it's all over way too quick. What a night! Dan and his band are so tight, with the kind of down and dirty blues that really gets to you. Catch him if you can. You won't regret it.
Words & photos by David Pickles
ARIELLE
DAN PATLANSKY