I've been looking forward to this show ever since it was originally announced. To me it's a perfect pairing of newer and classic music. On one side you have Alice Cooper who has been doing this for 50 plus years and spanned multi generations of fans. And the newer side with Buckcherry who's been around for about 20 years now. I thought to myself this is going be one hell of a great show. Apparently a lot of other people felt the same way because it was sold out. As in no more tickets available.
I love the Mystic Lake showroom because of the way it's set up. Not only do they have the very best in lighting as well as sound, but the sightlines are also fantastic and there really is not a bad seat in the house. Where you see a show matters because it makes all the difference in the world with the venue that you choose. For those of you reading this that do live in the Minneapolis Saint Paul metro area or close by, when you see an artist coming to Mystic Lake, you owe it to yourself to see a show there.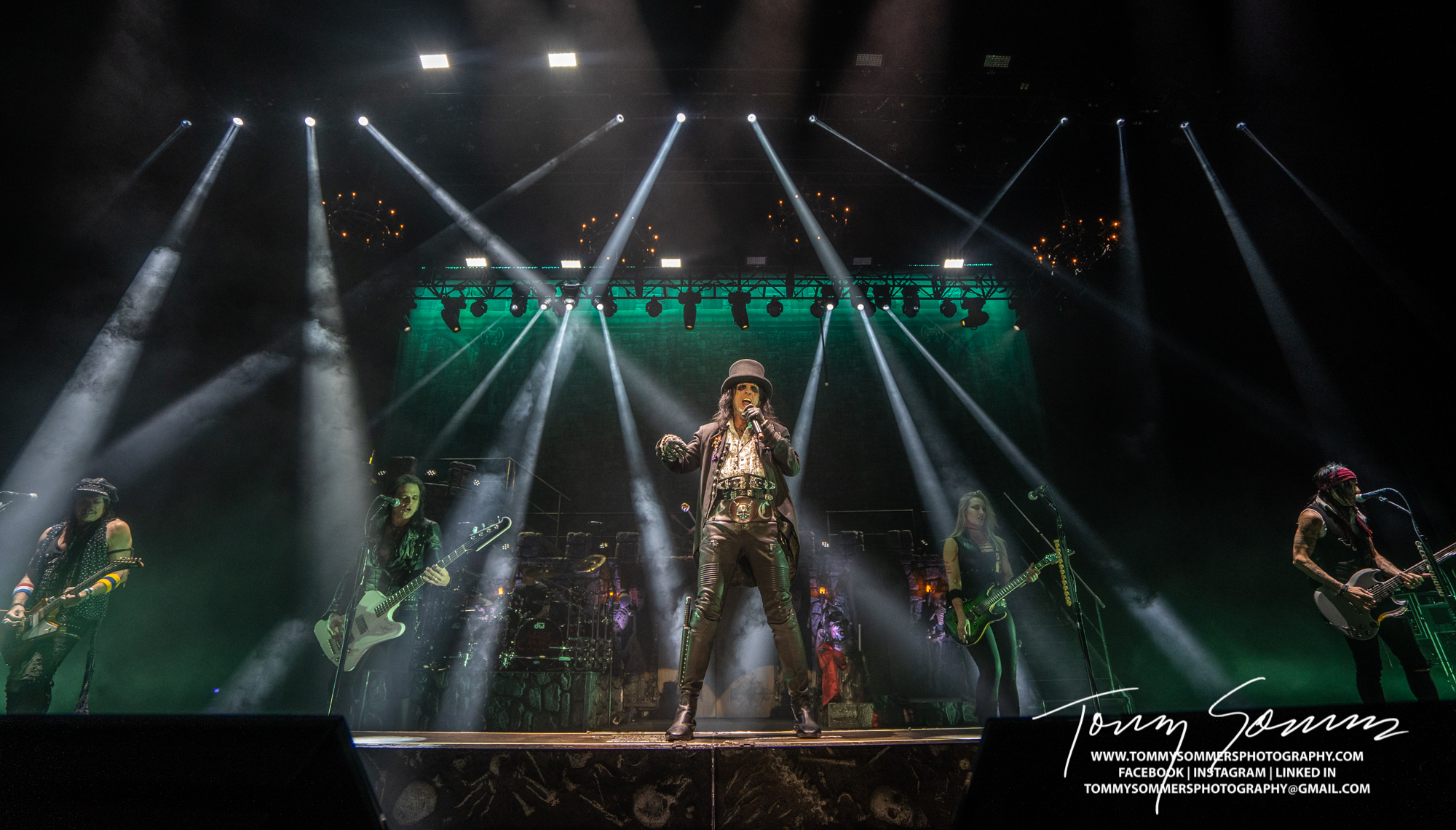 Buckcherry started the show with their latest single off their new Hellbound album, "54321". it's a perfect opening song for their extremely energetic set. Thank God they are one of the bands along with Alice Cooper who believes that rock is not dead. Both are very prolific and continue to release new material.
I can't say enough good about Buckcherry on so many levels. They are as solid of a rock band as they come. I've seen every version of this band over the years and the current lineup is by far the best lineup in the band's history. I will start with Josh Todd who is the lead singer. He writes most of the songs, picks the setlists and has a unique rock and roll voice that really takes the songs to a special place. Stevie Dacanay is the lead guitarist in the band and has been with him for over 15 years. He's very soulful in his playing. I've mentioned this before that his playing is unique because you have the hard edge of the music, but he has a soulful side to him like Prince. Billy Rowe who used to be in Jetboy is the newest addition to the band. Billy is an accomplished guitar player that brings the perfect mix to the band in the same way Ronnie Wood does with The Rolling Stones. Kelly LeMieux the bass player is just absolutely insane on stage. He and Francis Ruiz the drummer work so incredibly well together. Both are amazing musicians in their own right. Some of you might be reading this thinking why are you telling me all of this? The answer is because I think that you deserve to know these things and it's great to highlight musicians that are incredibly talented in their field.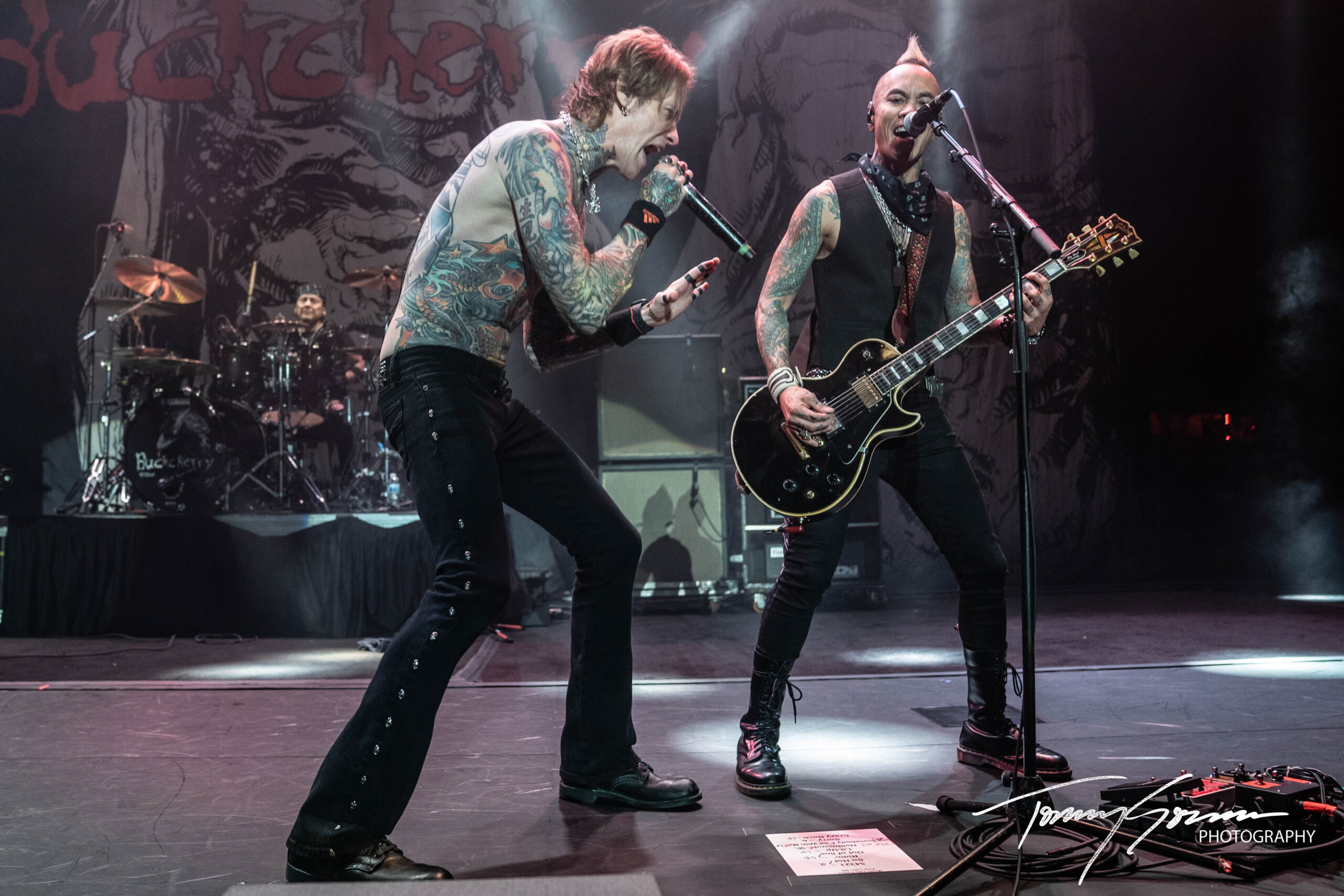 Since Buckcherry is a special guest, they only played a 45-minute set. But they made the most of their time by presenting a great history of the band. They did a few early songs like "Ridin" and "Lit Up".  Along with newer songs like, "Hellbound" and "So Hot".  They finished with probably their most famous song "Crazy Bitch", but they are so much more than that song. if you are not a fan of Buckcherry and you love rock and roll music, take a little time to check out their catalogue or better yet come see them live. I assure you; you will become an instant fan.
Alice Cooper is an artist that I've been a fan of as long as I can remember. I'm talking all the way back to the early 70s. I remember the first time I saw a picture of him in the newspaper as a kid. It said Alice Cooper comes to town and there was a picture of a guy with no makeup. I remember thinking how can that be Alice? I learned very quickly what Alice Cooper was all about. I even survived my first Alice Cooper show in 1978 in Saint Paul where some idiots threw a canister of tear gas into the crowd. So, you could say I've been a fan for a very long time.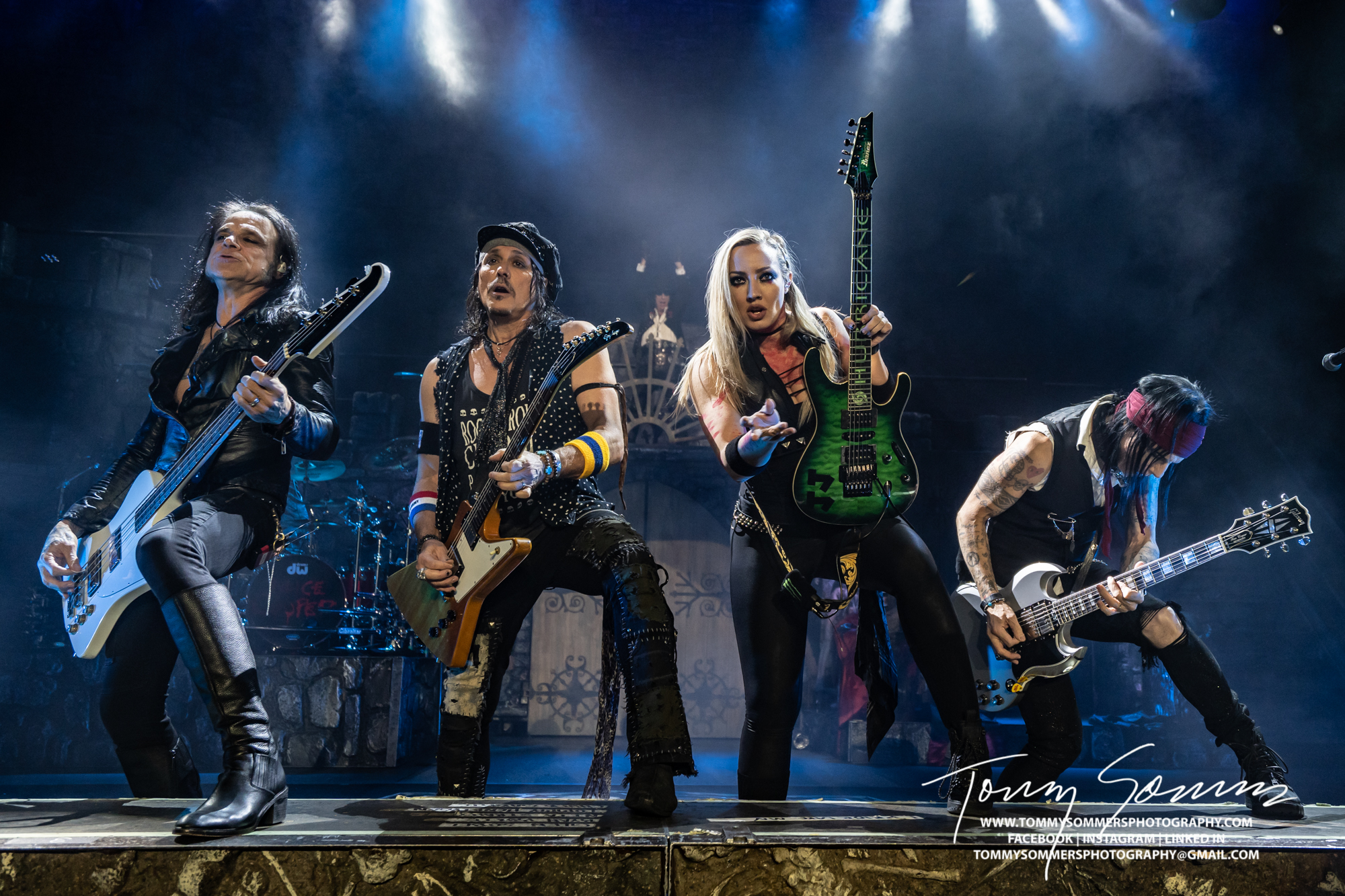 One of the many things that impressed me about through the years is how he has this ability to always get the very best players in his bands. The current lineup that has been with him for quite some time could be the best. Ryan Roxy the rhythm guitar player who has released a couple of solo albums on his own and has a podcast, Chuck Garric the bass player who is also in a cool band called Beasto Blanco, Nita Strauss who I believe is considered the lead guitar player is currently enjoying a solo tour of her own in between playing in this band. Her newest record Controlled Chaos was number one on the charts for4 weeks. It's mostly instrumental and very creative. Tommy Hendrickson on guitar who has worked with Lady Gaga, Halestorm as a producer and musician to mention a few. And let's not forget the incredible drummer, Glen Sobel. He also has quite the resume and has worked with so many different artists including Rob Halford, Steven Tyler, Nikki Sixx and Johnny Depp. They are all truly talented gifted musicians that deserve attention. They bring the songs to life for me as a fan of Alice Cooper.
As a fan of rock music nothing is worse than going to see an artist that I love with a weak band that sounds generic like they're playing on TV talent show. Alice Cooper's band is so solid that it takes you right back to those records that you bought as a kid. Every time I see him, he's always mixing the setlist up which is something I as a fan, I really appreciate. He tends to represent a nice selection from his entire catalog. On this particular tour, the highlight for me was the song "Go To Hell", which in my opinion is one of his very best records. He played all the hits for the casual fans as well like "Under My Wheels", "No More, Mr. Nice Guy", "School's Out" and "I'm Eighteen". But he went so much deeper than that for fans like myself by adding "Steven", "Escape", "Black Widow Jam", and "Be My Lover".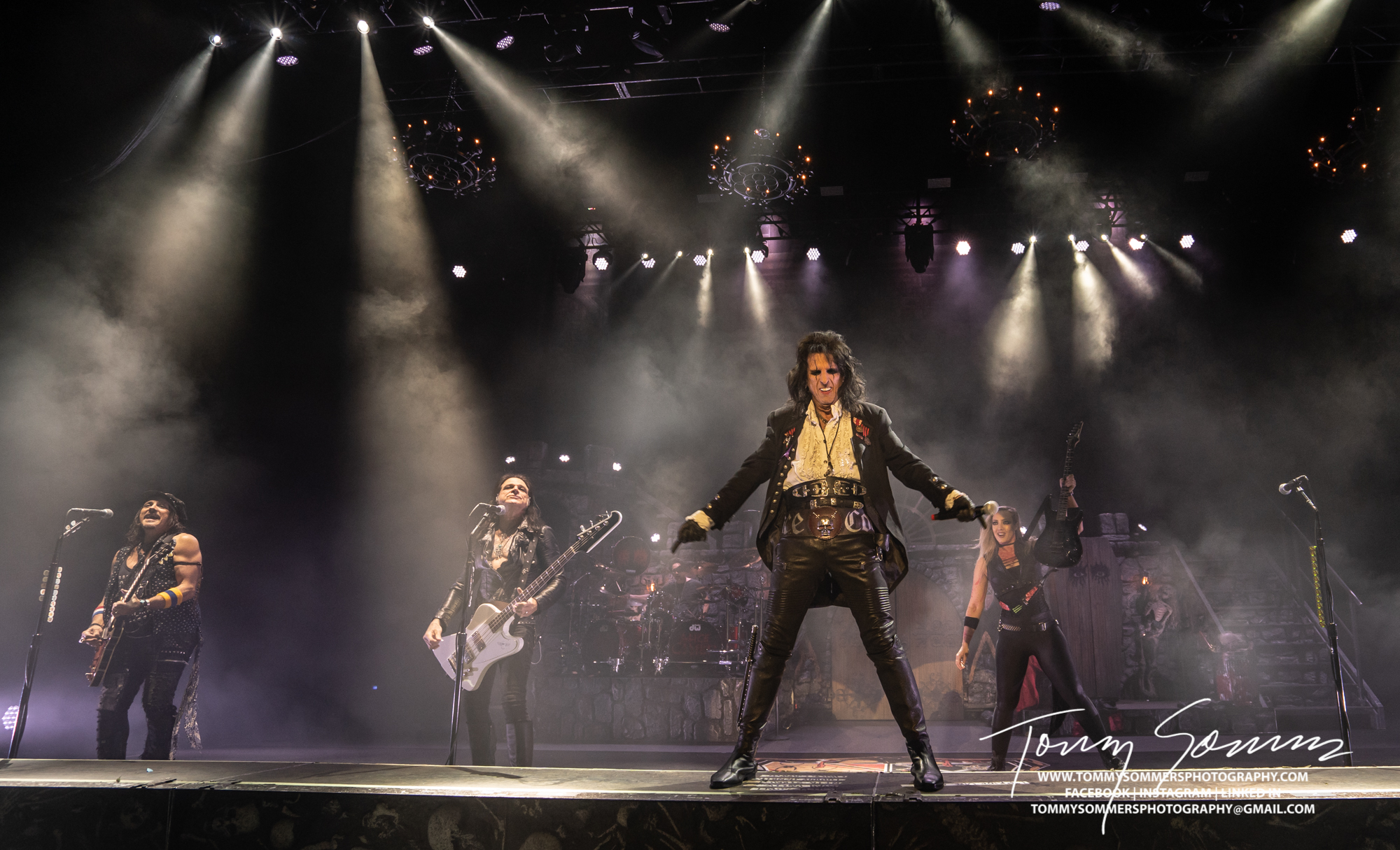 As I sat back and watched him perform, I can't believe he's 73. He is showing no signs of slowing down. On the last tour I did an interview with Alice and we spent about 30 minutes reminiscing about his career. One of the things he said to me at that time that really stuck with me is that he feels he has not yet written his best song. He has absolutely no plans of retiring. For that I am truly grateful because I will never tire of seeing him play live. He's out there for I believe the rest of the summer. If you're reading this and he's coming to your town shame on you, if you don't go see him. Alice Cooper embodies what rock and roll is all about. Great songs, great visuals and incredible production designed to entertain you and take you away for a few hours. Who doesn't love something like that?
Alice Cooper
Buckcherry