Saturday February 18th at the Ravenswood Hotel – This year was the continuation of a Blues institution, an event in it's 8th year of entertaining Blues enthusiasts. Set on the banks of the mighty Murray River in Western Australia, it was the perfect backdrop to have a cheeky beverage and enjoy the unique blend of new and seasoned Blues artists pedalling their wares for over 10+ hours.
It was a long journey (about an hour and 20) in the car from my house, the air conditioner earning its keep in my car until arriving at my destination. Gates were set to open at the strike of 12 and going by previous accounts punters would be there early. Eager to get their tables in the shade with an exclusive area which had the benefits of a visual vantage point to see both stages that the artists would be performing on.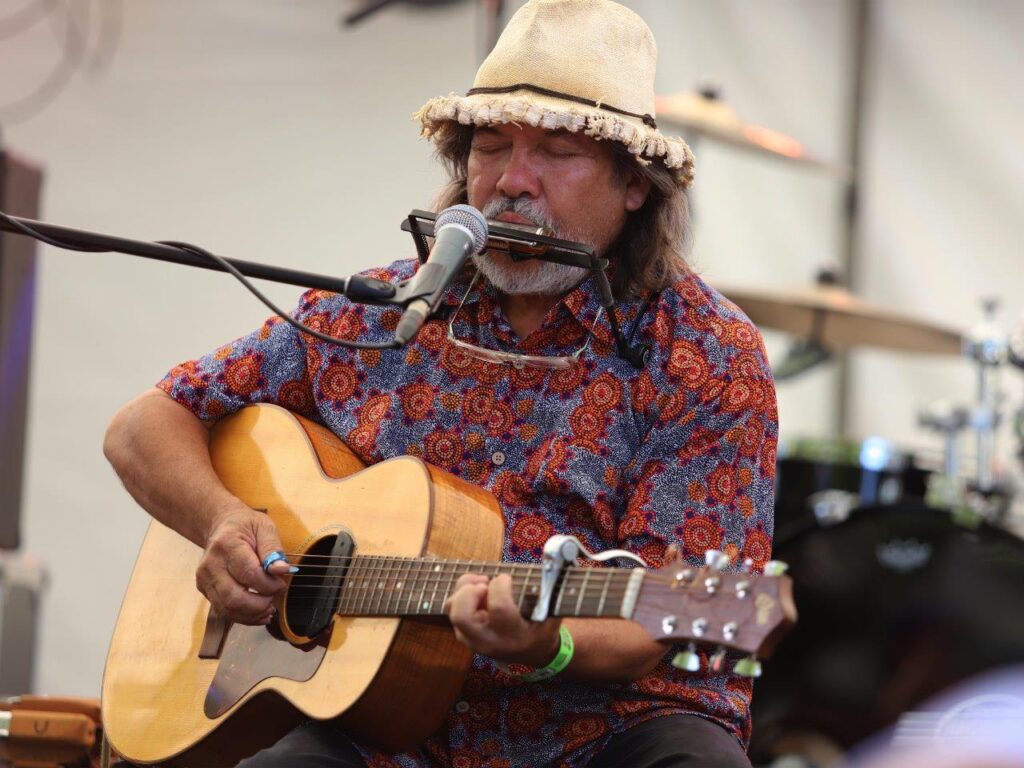 The event was a sell out – no surprises there, the line up was careful crafted to attract a crowd based on taste and not age. I was keen as mustard to see what the results would be to have all the artists put in the same melting pot and excited to receive the musical buffet that was about to be served. This crowd was in for a treat!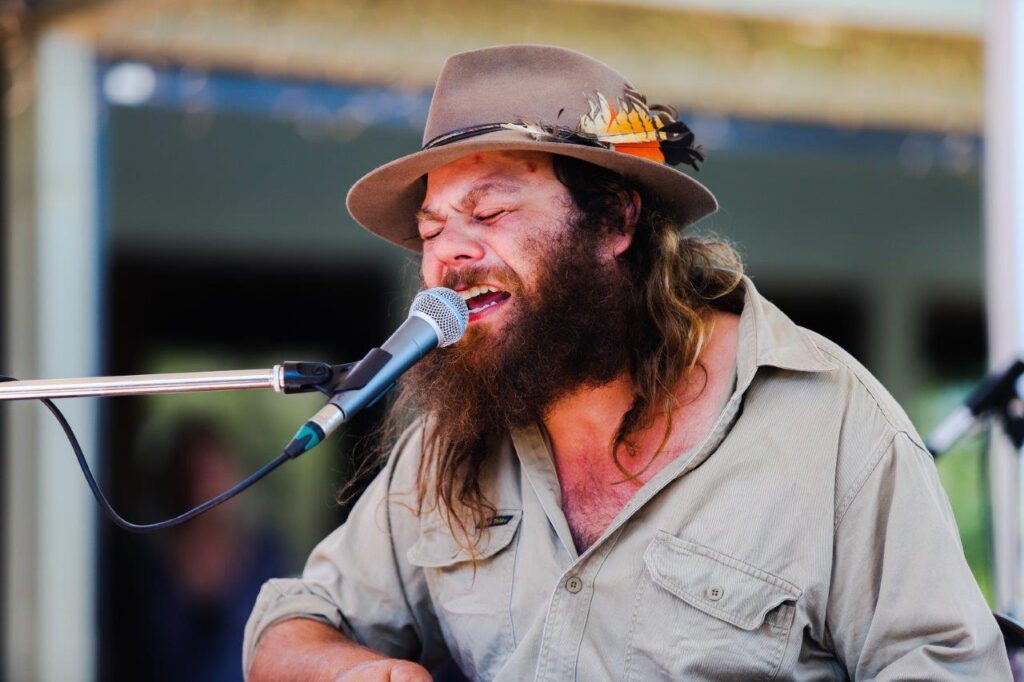 There were a few alterations to the line-up throughout the afternoon as inter-state musicians were caught up with flight delays, instruments simply arriving late and some artists not arriving at all due to no fault of their own. This didn't seem to phase the event organiser, artists or their fans as they knew no matter what the order, they were going to get their Blues fill.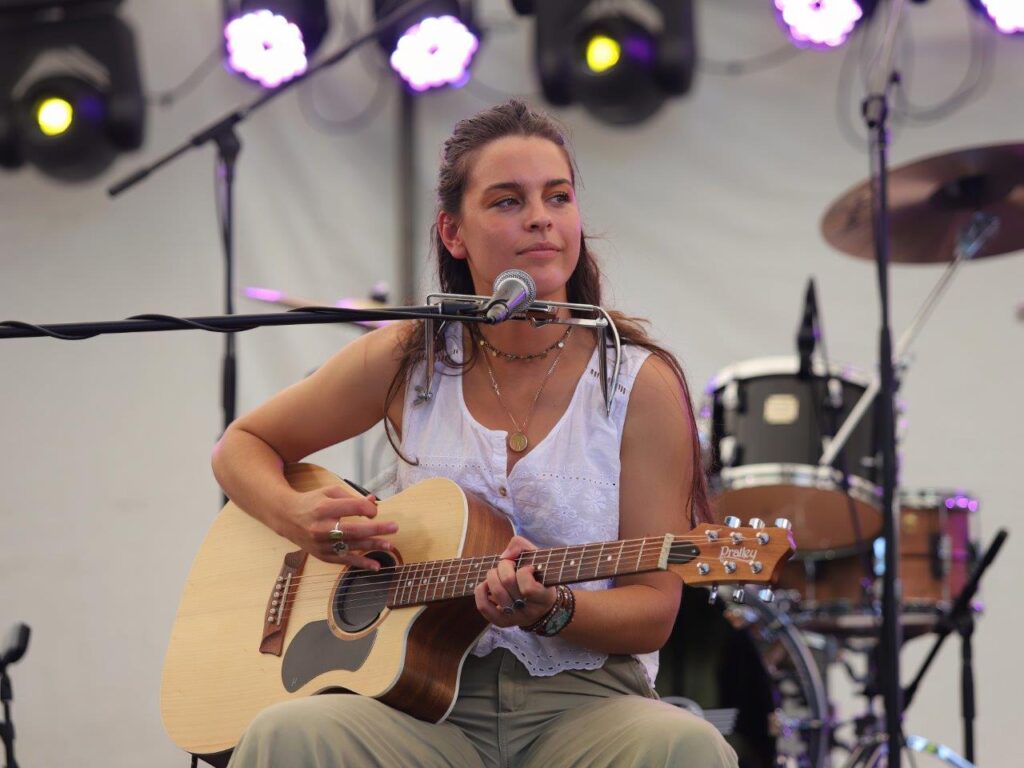 Stephen Pigram was first to grace the main stage, fresh from Broome he cut a lean story telling figure, rich in experience, he was eager to dispense a story or two. Armed with his weapons of entertainment Stephen had the crowd eating out of the palm of his hand, song after song keeping them on the edge of their seats. The second stage had a picturesque backdrop (the Murray river in all its glory) the punters migrated like albatross' over to the other pontoon of entertainment whilst swinging past the refreshment stand, Lightnin Jack was serving up some of his own tasty Blues beverages to his fans and his songs were lubricating the dancefloor.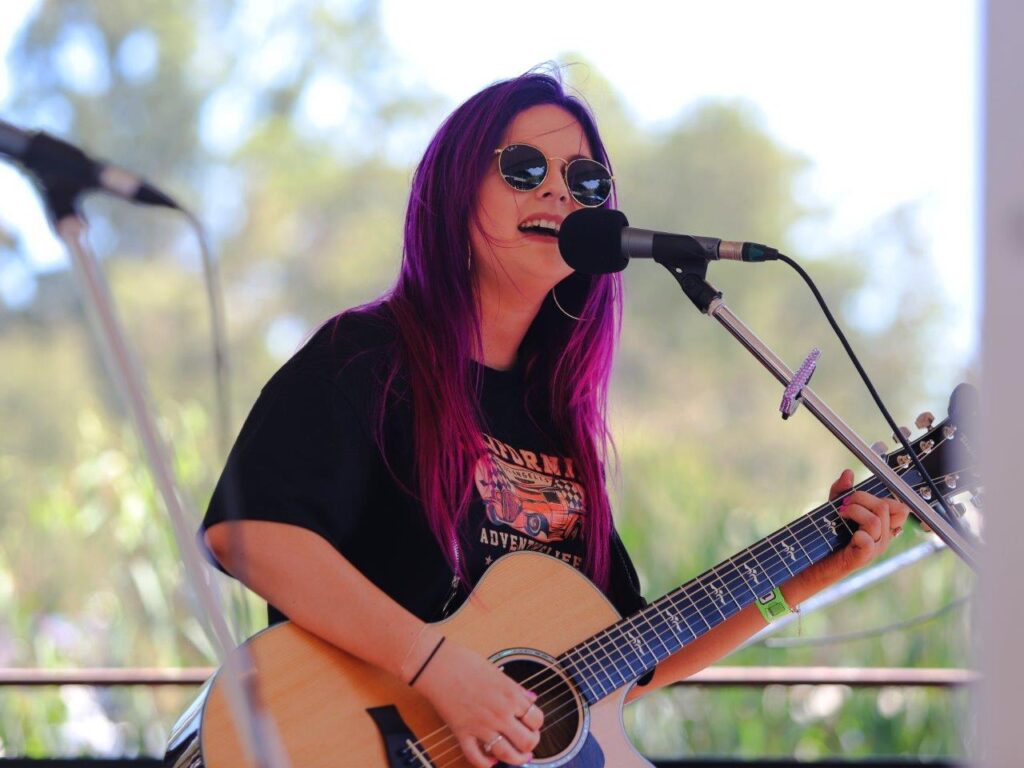 Steph Strings was next up on the main stage, fresh as a daisy even thou she had a delayed flight and her luggage went missing, she powered through like a true performer. Steph treated us to her acoustic prowess and showed us why she is Steph Strings while also treating us to a cheeky side serving of Steph Sings. Her smile and energy was infectious for her whole set. The migration was cutting a different path over to stage two, Claudia Tripp was on – I could hear her trademark vocals carving through the crowd and those beautiful violet locks flowing in the breeze. I struggled to get close to the stage as the dance floor had filled to capacity, all the other punters were taking the opportunity to dance to an amazing artist – thank God I had brought my long lens for my camera.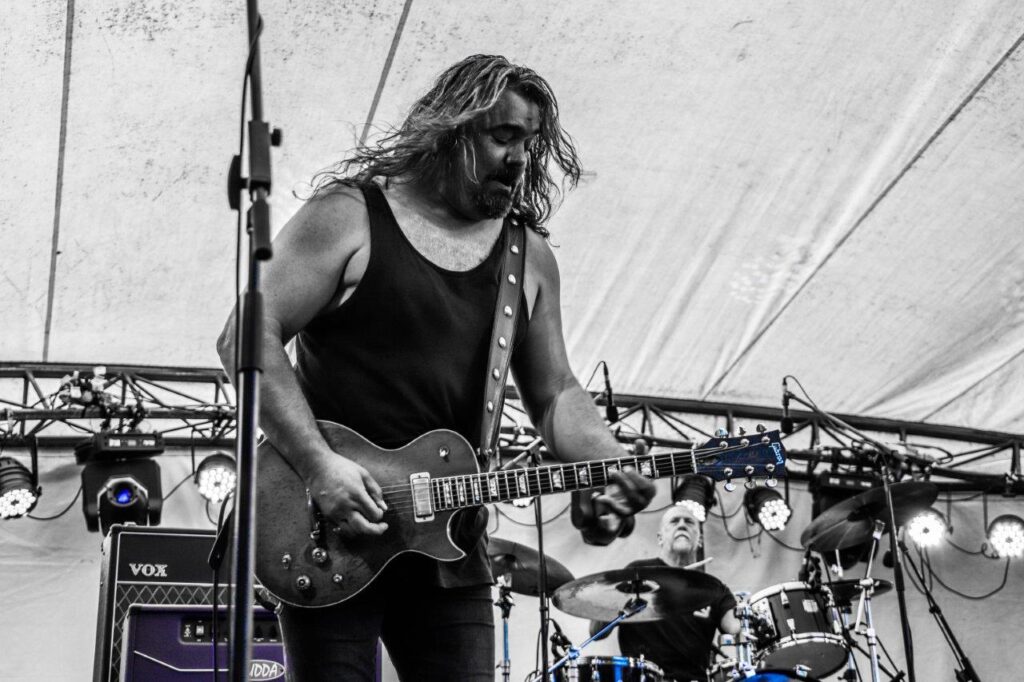 There was little time between sets, as soon as one artist stopped the next one started – I was struggling to cut through the sea of happy festival goers to catch Vdelli. One of my favourites, he is part of my staple Blues diet here in Perth and is always a welcome addition to any gig I come to watch. These champions give you a mix of old to new music and you easily forget just how many songs this talented trio can throw at you, sometimes sets are just not long enough. Hope River Road now cause me to load up and migrate to the south (stage 2), negotiating the pack like the Mitchell Fwy in peak hour. I need to get to the other side, I had heard so much about Hope River Road and I needed confirmation. My previous pathway to Stage 2 was gone – like a dried-up waterway it had dissolved and been filled in with people dancing, enjoying the music, and responsible re-hydration. My vantage points for taking photos previously had evaporated, an amazing problem to have if you are a band at a Blues festival – The Hope River was flowing and the punters were swimming in the river and loving it.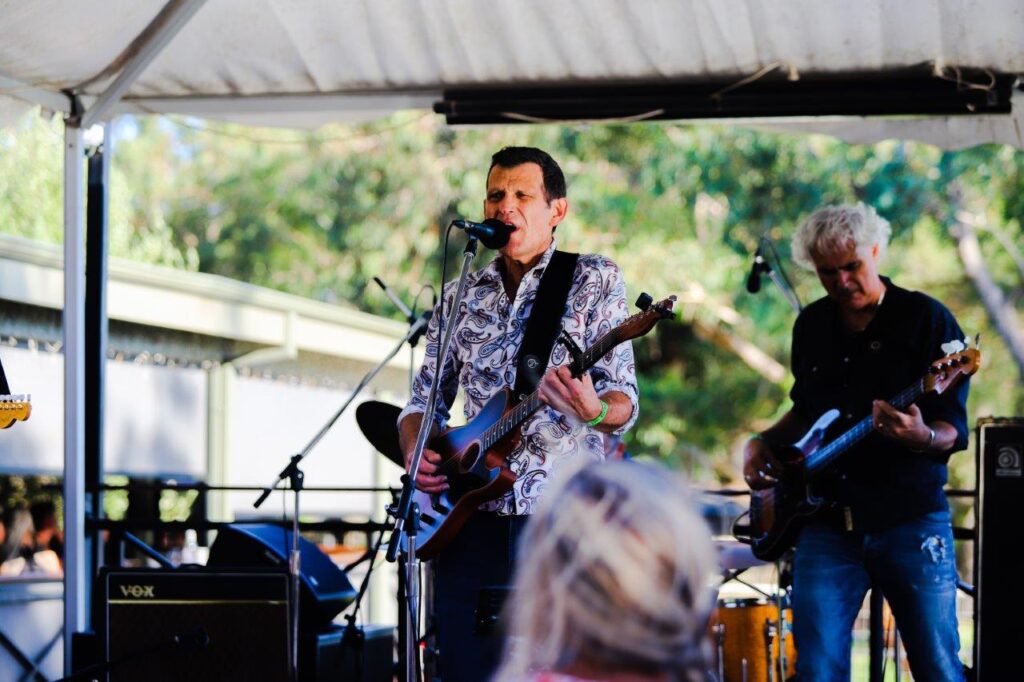 Bondi Cigars were an outfit that I had always wanted to catch live. I had seen them on social media posts before but had never had the chance to immerse myself in the delivery of their live music. The front rail at the main stage was now prime real estate, I never take for granted the opportunity that I have to photograph at gigs, it is a luxury to be between the performers and the rail. It is a surreal moment to see artists play passionately for a live audience, that passion was in abundance from the lads of Bondi Cigars. I can see now why they have such a huge following over here in WA.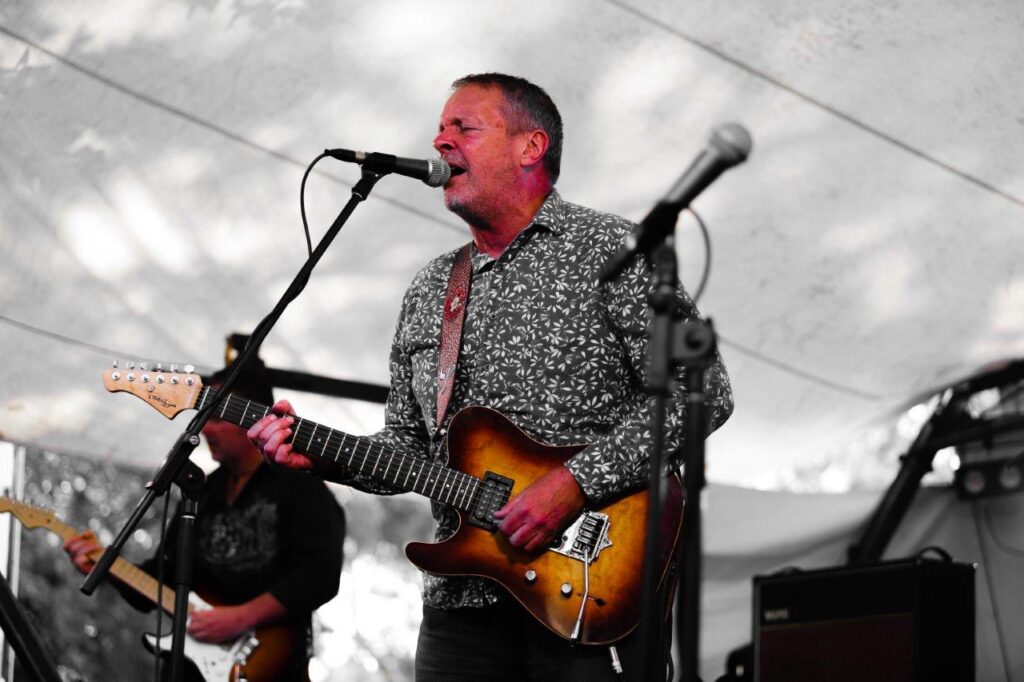 Ash Grunwald sits on his box on the main stage smiling like a Cheshire cat, fully aware of the music that he will deliver and the joy that will wander through the crowd. His presence absorbing all the attention in the festival as he poised to unleash the Grunwald experience. His soulful beats and Blues undertones dance through the crowd, the by-product of his experience is smiles and elation plus a few more followers of his journey.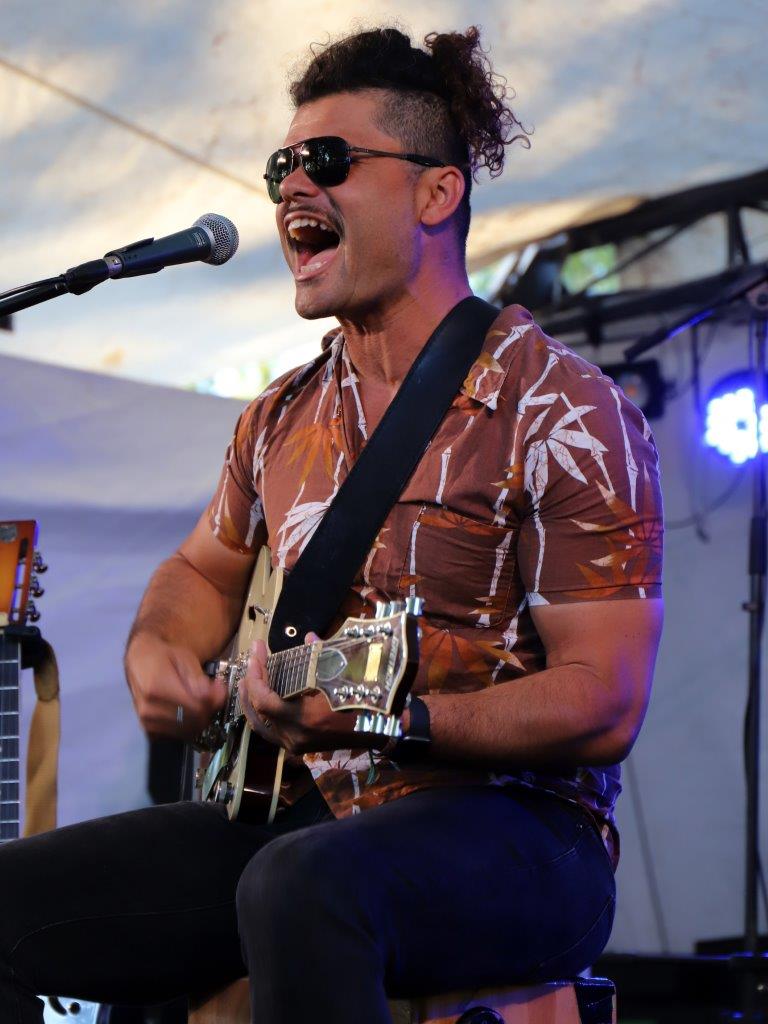 19-Twenty are a power outfit, oozing intensity they use every inch of the main stage, at moments they were also using the airspace above it. Such a lose knit trio that still retaining their own separate personalities. These 3 lads are energy personified, from standing on double basses to jumping off kick stands you need to keep both eyes wide open to complete the full experience – blink and you will miss it. Trying to cram as much music into their set as physically possible there was little rest (if any) for this trio – they had found their 40 minutes of fitness just delivering their amazing music….. wow!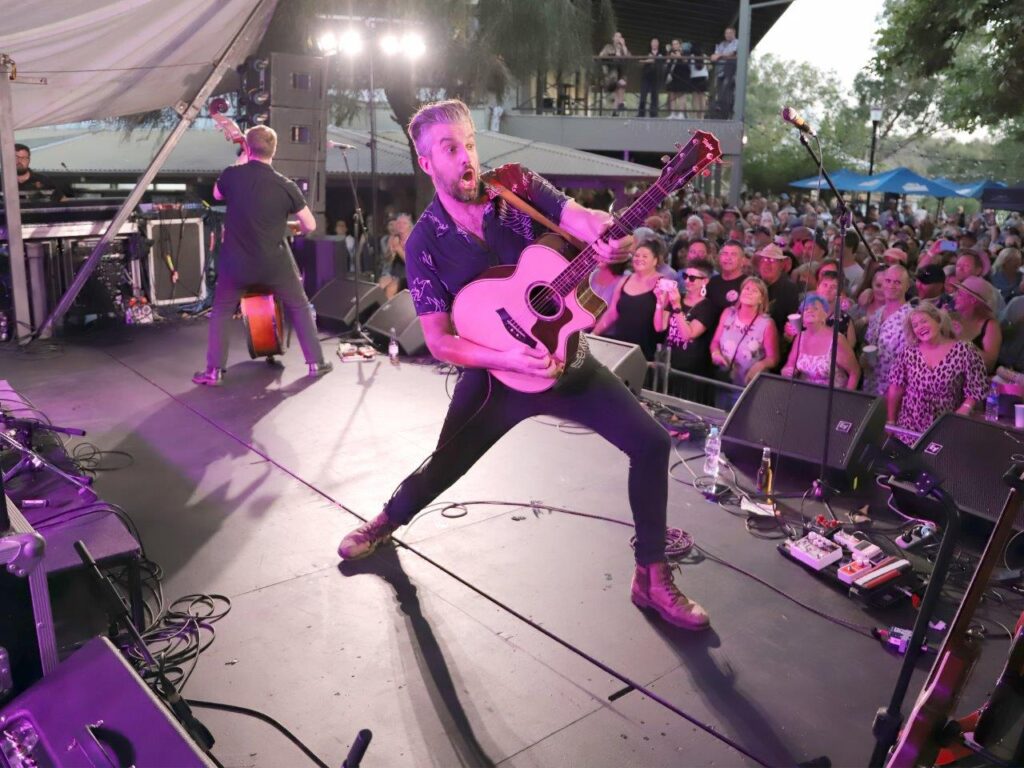 It is very rare for me to witness someone so good playing an instrument that I forget to take photos. Dave Hole is that good – I lost time during his set, I was too busy being in awe of his ability to play the guitar and don't even get me started on his slide. Smooth execution in his uncanny ability to engage the crowd made him one of the punters favourites (certainly mine). His movement on the stage was playful at times which assisted in time standing still. A stellar performance for any Blues Festival.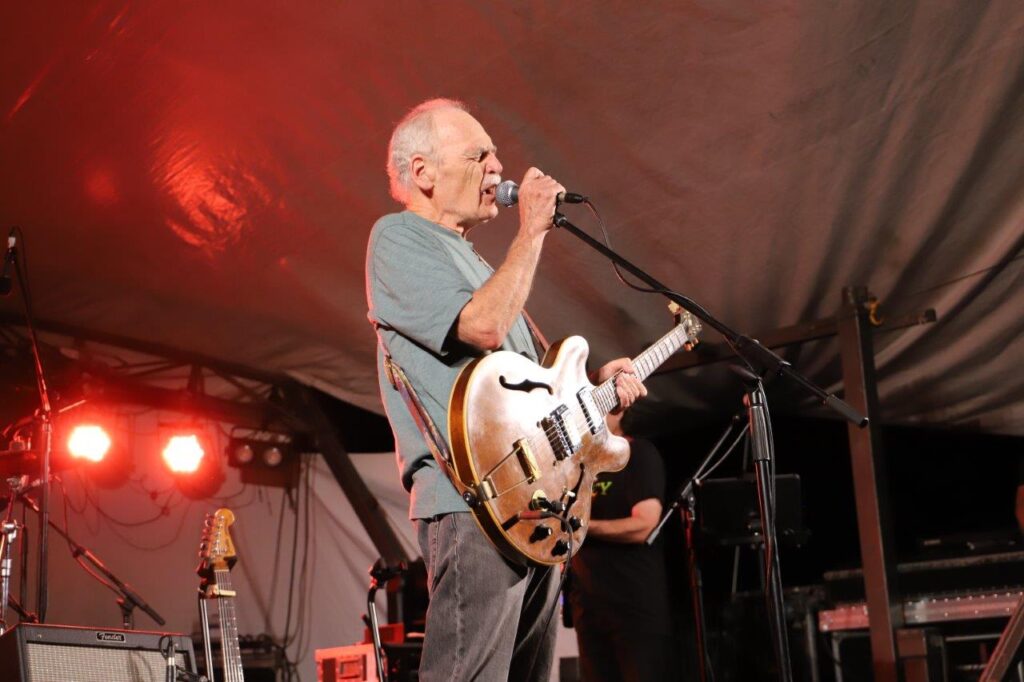 Black Sorrows had been on my bucket list for some time, A defining band in my youth which shaped my taste in music. I was very excited to be this close to the action (like everyone else) the crowd pulled forward consuming every little piece of real estate close to the front rail and the main migration had begun. The Black Sorrows busted out all their amazing hits, the back catalogue was not spared, and everyone was singing along (including this photographer). It felt like every song was sung just for me, the delivery, the intent, all of it was personal and I loved it. For those 40 minutes I felt apart of the Black Sorrow family and you could not wipe the smile off my face.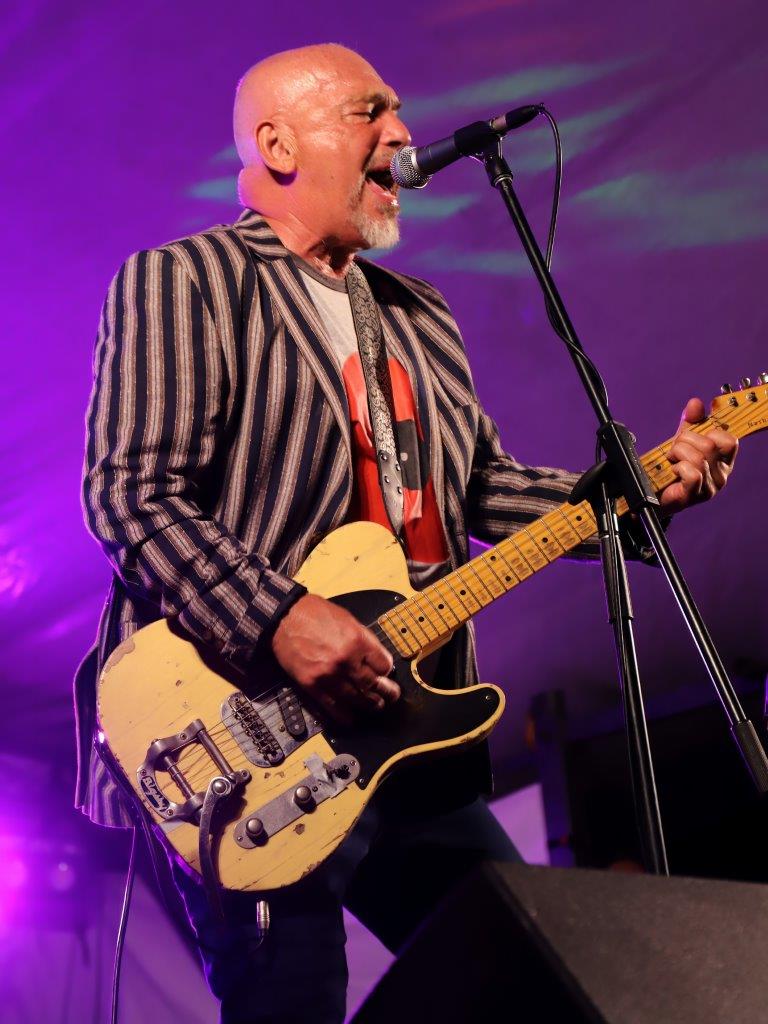 The party continued well into the night with Proud Mary rounding out an amazing night filled with CCR hits with their unique blend of charisma and charm. All in all, an amazing night, I left tired, sore and smiling from ear to ear with my Blues cup overflowing with goodness.
Would I do it again? You bet I will… Do yourself a favour, if you love your Blues get your ticket to the 9th Annual Ravo Blues and Roots Festival……. You will be kicking yourself if you don't!
With thanks to Starr Special Events for the access.
Photos by Hunter Brothers Media
GALLERY