GRANDE ROYALE Release New LP 'Welcome to Grime Town'
Welcome To Grime Town is the sixth studio album from the Scandinavian garage rock outfit GRANDE ROYALE. Showcasing the band's range from a more laid back, melodic and acoustic side to catchy and energetic hard rock. The new record will be released on March 24th, 2023, via The Sign Records.
Welcome To Grime Town delivers twelve powerful tracks all encompassing GRANDE ROYALE's compelling style. Raucous riffs, electric guitars and dynamic percussion manifest into a fiery explosion. From "Tell Me" to "The End", GRANDE ROYALE present an thrilling journey of high-octant tracks and more intimate melodic moments. "Tell Me" makes for a energetic opening setting the tone for the album. "Utopia" unveils a softer side with an acoustic composition gradually building before erupting into full-throttle distortion. Taking another turn, "Stark Raving Mad" brings a taste of punk with a gritty edge. With inspiration for the track drawn from a Monty Python-ish universe, "Stark Raving Mad" is a catchy hit.
About GRANDE ROYALE:
GRANDE ROYALE is a rock 'n' roll band who fuse the early 70's rock scene of Detroit with the 90's rock scene in Scandinavia, and throw in some vintage pop elements for good measure. The band formed in 2014 and released their debut Cygne Noir in the same year. During their career the outfit has toured all over Europe and GRANDE ROYALE has become a name to be reckoned with in the Swedish rock scene. Now preparing to unleash their sixth studio album, Welcome to Grime Town, this offering marks a new chapter for the band seeing Calle Rydberg replace Andreas Jenå on guitars and vocals.
GRANDE ROYALE is:
Johan Häll – Drums and vocals
Samuel Georgsson – Bass and vocals
Calle Rydberg – Guitar and vocals
Gustav Wremer – Guitar and vocals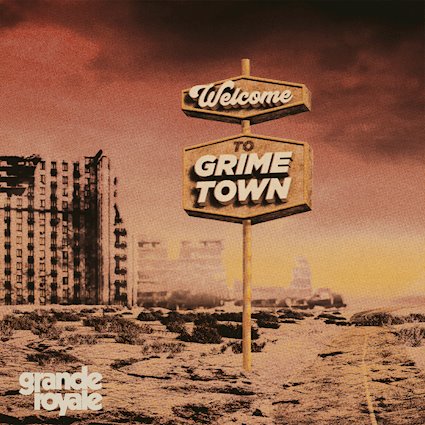 Track Listing: 
 1. Tell Me
 2. Status Doom
 3. Run Officer Run
 4. You Got Me Real Good
 5. Augury
 6. Utopia
 7. Freak Parade
 8. Move Around Time
 9. Stark Raving Mad
 10. Choke On It
 11. Seven Days No Sleep
 12. The End
Credits:
Welcome to Grime Town was Recorded in Booyah Studios in 2022
Produced and recorded by GRANDE ROYALE
Mixed by Robert Pehrsson in Studio Humbucker
Mastered by Ulf Blomberg at Hoborec Recording Studios.
Artwork by Eric Lindqvist
Welcome to Grime Town features special guest performance by MATTIAS RYDELL (Lead guitar on the track "Augury") and HELEN VILSSON (lead vocals on "Run Officer Run").