"DJ International Wigg a Legacy & Household name in Hiphop"
In 1980 Leonard Belle always played his records and tapes for his son Preston Belle today known as DJ International Wigg everyday after work. This would be their father and son bonding time over music, and just those moments of bonding sparked and began a musical journey for DJ International Wigg.
His father had him listening to reggae artist Dennis Brown to Vocalist like Nat King Cole and Jazz bands like Duke Ellington along with other artists like Commodores, The Stylistic, Marvin Gaye, The Beatles and so many more his music selection was large. By Early the mid 90s DJ International Wigg along with 3 other guys forming a dj group called "Black Heart Sound".
In junior high school he would do house parties and have reggae Dj battles in New York City. This is when Dj International Wigg's passion and love for music began growing and when he decided he could go far in the business as a DJ and make history.
DJ International Wigg has been inspired by Dj Kid Capri, Dj clue, FunkMaster Flex who inspired him to do mix tapes. Once DJ International Wigg began doing his own mixtapes this placed him in the position to begin getting street creditablity as a DJ who could really help the artist.
In late 1997 he was inspired by his couisn "Jah Born" Production company "Galaxy Nine Productions". His cousin "Jah Born" is a producer who has made the track for "Erykah Badu" hit song "On & ON." This made DJ International Wigg start producing and teaching hiself how to work on drum machines and he learned how to engineer music in the studio as well.
His father Leonard Bell paid for him to go to Jamaica for 1 year and becoming a intern For Reggae Producer "Gussie Clarkes" at "Anchor Recording Studio," while there he worked with audio engineer "Dr Marshall", who was the lead engineer for the multi-platinum recording reggae artist "Shaggy", on his project called "HOT SHOT". This experience sealed the deal and DJ International Wigg was set on being a producer, engineer, & DJ.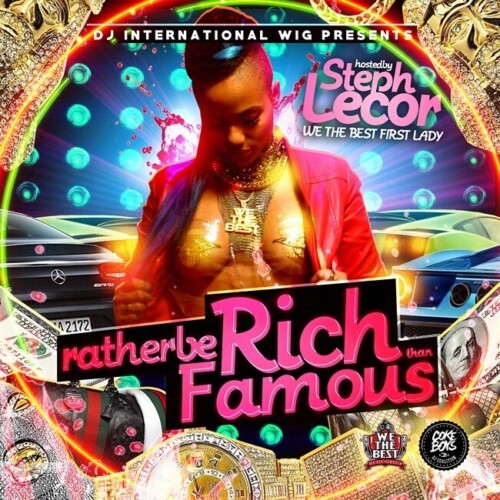 So once he returned back to America he moved to Houston there he opened up his own studio. He began working with so many artist such as Mysterious from Making The Band 2 who is currently known as Misty Blanco The Blaquanese Rockstar, Lil Flip, Kat Williams, JT The Bigga Figga, Baby Bash, Paul Wall, B2K, Lil O, Orlando Brown, Brian Micheal Cox, Trey Songs and Spider Loc just to name a few.
After putting in so much work in the mixtape circuit he began working with labels like MMG doing mix tapes with Triple C's, Rick Ross, Gun Play now known as Don Logan, Young Breed, Torch and artist Yung Dice. Dj International Wigg then met up with French Montana and The Cokeboys. DJ International Wigg become a DJ for the Cokeboys in miami dropping mixtape every 2 weeks.
Soon after DJ International Wigg would work with DJ Khaled "We The Best Music Group" on the single "Saturday". DJ International Wigg would become a Coast to coast DJ breaking records and mixtapes for many artist like Zoey Dollarz, Coo Coo, Kodak Black, Future Hendrix, Rojas on The Beat, Juilo Fooli, Monaleo. DJ International Wigg is truly and inspiration for other DJ's and he's a household name.
Link to mix tape
https://spinrilla.com/mixtapes/international-wig-rather-be-rich-than-famous
List of artist DJ International Wigg has worked with:
Misty Blanco The Blaquanese Rockstar
Kodak Black
French Montana
Chinx
Lil Durk
Rondo Numba 9
Coke Boys Records
Jt Da Bigga Figga
Lil Zane
Fred Da God Son
Vado
Steph Lecor
We the best music group
Bang
Rick Ross
Torch
MMG Records
Bang 'Em Smurf
G-Unit
Spider Loc
Atlantic Records
Universal Records
Baby Bash
JoJo Capone
Rich Gang
Ghost Face
Rocafella Records
Lil Flip
Lil O
Paul Wall
Red man
Trey Songz
Bianca Bonnie aka Young B
Byran Micheal Coxs
Erkyah Badu
Galaxy 9 Productions
Julio Foolio
For publicity inquiries for DJ International Wigg contact The Misty TV Firm Via Email: [email protected]
The Misty TV Firm Corporation Instagram IG: @themistytv
DJ International Instagram IG: @_djinternationalwigg
Email : [email protected]
tiktok: djinternationalwigg
twitter: Djwig
© 2022, Logan. All rights reserved.