ANDRE WARHURST Goes Viral With New Video 'Love & Mercy'
Andre Warhurst – who plays guitar in Chris Cheney's solo band and who has been a mainstay of Melbourne's blues/alternative rock scene since his days in Manic Suede in the '90s – is set to hit 100K YouTube views of the video for his new single "Love & Mercy", one week after the single's release. The stunning Studio Ghibli-inspired "Love & Mercy" video was premiered by Rhythms magazine on March 3.
The gorgeous "Love & Mercy" video was made by Melbourne animator Leigh Young. The video depicts a Western landscape and a surreal "boy with no name" narrative as filtered through a sensibility inspired by famed Japanese animation studio Studio Ghibli (Spirited Away, Nausicaa etc)
"Love & Mercy" is a perfect example of the South-Western feel of Andre's new work. Listen HERE
Andre & band will launch the new single at Abbotsford's Lulie Tavern on Friday March 31. Andre has also been announced as part of the line-up for the '50th Anniversary of the Rolling Stones at Kooyong' show alongside Tim Rogers, Davey Lane et al, which takes place Saturday, 22 April at Melbourne's Corner Hotel.
Andre will release his debut solo album This Is Andre Warhurst on May 12.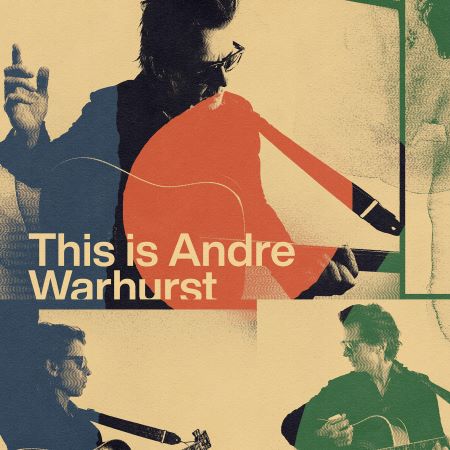 "This is a gem of a record.  It's so great to step inside the musical mind of Andre because it's clever and melodic and beautifully played but more than anything it's just a damn cool record! " – Chris Cheney
One of Melbourne's most in-demand players, Andre Warhurst has been doing his blues-rock thing in Melbourne bars, pubs and clubs for the best part of thirty years–often together with his brother Kit Warhurst, who is known to many as Rocket Science's drummer, and who plays drums on Andre's new album. Andre and Kit came to prominence together up front of Manic Suede; young and hip blues-rockers who built a rabid fanbase on the back of hard work and great music and who scored a spot on the Big Day Out in 1996. Out of Manic Suede, they formed Spoonful – their blues/R'n'B party band with whom they've been playing their fave rockin' blues numbers around town ever since.
Along the way Andre fronted hard rocking power poppers Silver Night Drive (one classic lost album in 2008) and played with a wide range of artists including Clare Bowditch, James Reyne, Lisa Mitchell, Ash Davies' band Mighty Servant and Kram from Spiderbait's solo project.
Famously, Andre also added his chops to Jet's blockbuster Get Born.
In addition to gigs with Spoonful and being Chris Cheney's right-hand man (he joined Cheney band to tour Cheney's Top 10 debut solo album The Storm Before The Calm), Andre these days fronts Andre Warhurst & The Rare Byrds – once again, with Kit on drums – with whom he's worked up the repertoire that comprises This Is Andre Wathurst.
The forthcoming album has been a while in the making. "I had ideas for a few songs that I wanted to scratch out," says Andre. "Silver Night Drive had flown pretty close to the sun, we were offered a deal with Sony Records only to have this squashed when their main A&R guy left to go to America and work at another label. I still had a fire inside, but I didn't want to start a band from scratch again. I decided to follow in my brother Kits footsteps and do a solo record.
"I had an old recording unit at home that I planned to use. I just got started and things started to snowball. I recycled old drum outtakes from previous projects and used cheesy keyboard click tracks. I recorded most of the vocals, guitars, bass and keyboards at my house. It was all very DIY. I lost myself in the writing and noodling. 
"I wanted to create an album that documents my fave things, sitting somewhere where the world stands still, strumming some chords and finding a vocal melody and rhythm that floats across. I wanted to raise my game, avoid another exercise in unfinished business, capture some lockdown rushes of multi-tracked isolation.
"This album is mainly simple songs that don't need any fireworks to make them work. These ideas stylistically seemed to sit outside what I'd done previously.  Although the album doesn't shy away from my classic rock & blues influences like Peter Green's Fleetwood Mac, The Yardbirds, Jeff Beck Group, The Shadows etc,  it seems the album has a Spanish / Tex-Mex thread, some fuzz rock stompers and psychedelic rock moments, guitar themed instrumentals and out-n-out ballad rockers. I didn't plan it that way!"
"Love & Mercy" is the album's second single. First single "True Love" was another classic, rootsy pop song, high on drama, layered with acoustic and electric guitars and loaded with stinging licks, and authenticity embracing blues and country as well as classic guitar-driven rock.
This is Andre Warhurst album pre-save link HERE